---
Resources
Art, Cuisine, Famous Italians, Festivals, Folklore, Genealogy, Holidays, Hotels, Photos, Real Estate, Sports, Travel and More
---
Guides
---
Surname Collection
Add your name to the collection.
---
Recipes
Authentic Italian recipes for you to enjoy.
---
Photo Galleries
Enjoy photos of Italy, wine making & more.
---
Proverbi
Proverbs in Italian & English.
---
Our Paesani
Weekly column dedicated to today's Italy.
by Francesca Di Meglio
---
Italian Memories
Articles on growing up Italian.
by Cookie Curci
---
Una Mamma Italiana
Articles for Italian mammas.
by Tiffany Longo
---
Learn Italian
English-Italian guides
Spanish-Italian guides.
---
Molto Italiano
Sign up for our FREE newsletter.
---
Trivia
Test your knowledge of Italy.
---
Where in the World are Antonio and Dante?
Antonio & Dante's Next Adventure
We are at the Statue of Liberty

"This is totally awesome Dante! This book I am sitting on is surprisingly comfortable."

"The view from up here is incredible. I told you it would be more fun if we climbed up ourselves."

"I have to admit Dante you were right. We must warn people not to try this when they come to visit."

"As always Antonio you make a good point!"

Entrance to the pedestal and museum are free. The price is included in the ferry ride to the island. You are permitted to visit the crown, but there is an additional fee for this. The National Park Service has a boat load of information for you on the Statue. It includes directions, facts, fees and more.

Below are just some of the interesting facts about the Statue of Liberty in New York.
It was donated in 1886 by the Union Franco-Americaine (Franco-American Union)
It was dedicated on Thursday, October 28, 1886
Frédéric Auguste Bartholdi designed the Statue
Alexandre Gustave Eiffel built the framework for the Statue
The height from the base to the tip of the torch is 305 feet and 6 inches
From the pedestal to the head of the statue there are 154 steps
The tablet in her left hand is inscribed with the date JULY IV MDCCLXXVI (July 4, 1776)
The crown has 7 rays, one for each continent
"The New Colossus" a sonnet written by Emma Lazarus is mounted on the inner wall of the pedestal of the Statue of Liberty
The Statue is located on Liberty Island, which was originally called Bedloe's Island (The name was not officially changed until 1956)
The Statue was placed within the walls of Fort Wood
It was officially titled "Liberty Enlightening the World"
The Statue of Liberty is a symbol of hope and freedom. During the late 19th century and first half of the 20th century millions of immigrants found their way to America with the dream of a better life. We realize this isn't just a statue for Italians to enjoy, but many Italian immigrants made that journey to the New World and that is why we thought it was important for us to visit.
"Ciao for now - see you next week for a whole new traveling adventure!"
How did you like our latest adventure? We would love to hear from you! Just send us an email to antonioanddante@italiansrus.com. Here is how you can help us on our journey.
---
Additional Resources:
Italians Love New York
Lady Liberty
---
| | |
| --- | --- |
| | |
| | |
Follow Us
Featured Item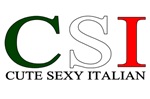 Shirts & Novelties
---
Partner Links Shops/Stores Italiansrus Gear
Proudly display the colors of Italy with these great products.

Italian Charms

Huge selection of Italian charms and jewelry. FORZIERI.com

The world largest online retailer for Premium Italian Fashions.
---
Cuisine/Food CyberCucina.com
Fine gourmet foods and more. Gustobene.com
Use code Italiansruspromo to receive a 10% discount off your entire purchase.
---
Travel Tour Italy
Customize your trip to Italy.