---
Resources
Art, Cuisine, Famous Italians, Festivals, Folklore, Genealogy, Holidays, Hotels, Photos, Real Estate, Sports, Travel and More
---
Guides
---
Surname Collection
Add your name to the collection.
---
Recipes
Authentic Italian recipes for you to enjoy.
---
Photo Galleries
Enjoy photos of Italy, wine making & more.
---
Proverbi
Proverbs in Italian & English.
---
Our Paesani
Weekly column dedicated to today's Italy.
by Francesca Di Meglio
---
Italian Memories
Articles on growing up Italian.
by Cookie Curci
---
Una Mamma Italiana
Articles for Italian mammas.
by Tiffany Longo
---
Learn Italian
English-Italian guides
Spanish-Italian guides.
---
Molto Italiano
Sign up for our FREE newsletter.
---
Trivia
Test your knowledge of Italy.
---
Where in the World are Antonio and Dante?
Antonio & Dante's Next Adventure
We are at the Leaning Tower of Pisa
"It is a good thing we got here just in time Antonio. This tower was going to fall, but I saved the day by holding it up. I don't think I can do this forever though."
"Dante it is supposed to lean. That's why it is called the Leaning Tower of Pisa."
"I know that, I was just having some fun with you."
"You sure are the practical joker aren't you?"
"Antonio, what exactly are you doing sitting on the lawn?"
"I am trying to soak up some sun and enjoy the view."
Below are just some of the interesting facts about the Leaning Tower of Pisa.
The first stone was placed on August 9, 1173
The height of the tower is 55.863 m (183.28 feet)
The diameter at the base of the tower is 15.484 m (50.80 feet)
The tower was completed in 1350
Construction of the tower was halted on several occasions due to war with Florence
There are 294 steps from the ground to the bell tower (the steps spiral all the way to the top)
There are eight levels to the bell tower
The foundation underneath the tower is what caused it to lean (the leaning started soon after construction and was noticeable after 3 levels were completed)
On top of the tower is a bell chamber with 7 bells (the bells are tuned to musical scales)

The names of the bell are as follows:
l'Assunta - this is the largest bell and it was casted in 1654 by Giovanni Pietro Orlandi
il Crocifisso - cast in 1572 by Vincenzo Possenti
San Ranieri - cast between 1719-21 by Giovanni Andrea Moreni
la Pasquereccia - this is the oldest bell and it was casted in 1262 by Lotteringo
Del Pozzetto - cast in 1606
la Terza - cast in 1473
il Vespruccio - cast in the fourteenth century and again in 1501 by Nicola di Jacopo

Legend states that Galileo performed his famous experiment (the experiment involved dropping cannonballs of different weights to prove his theory of falling bodies) atop the Leaning Tower of Pisa
In 1987 the tower was included as part of the Piazza del Duomo UNESCO World Heritage Site
Latitude: 43.7167 (43° 43' 0" N)
Longitude: 10.3833 (10° 22' 60" E)
On January 7, 1990 the doors were closed to the public
On December 15, 2001 the doors to the tower were reopened to the public
Tickets can be purchased in advance online (If you wait to purchase the tickets on site you may find out that they are sold out)
The Tower is not open 24 hours a day (Here is a list of hours it is open and when the last climb to the top will take place)
If you have the chance go visit the Leaning Tower of Pisa. If your health permits it make the climb to the top. At one point it will feel like you are walking on the wall.
"Ciao for now - see you next week for a whole new traveling adventure!"
How did you like our latest adventure? We would love to hear from you! Just send us an email to antonioanddante@italiansrus.com. Here is how you can help us on our journey.
---
Additional Resources:
Pisa Photo Gallery
Tuscany Region Guide
---
| | |
| --- | --- |
| | |
| | |
Follow Us
Featured Item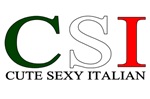 Shirts & Novelties
---
Partner Links Shops/Stores Italiansrus Gear
Proudly display the colors of Italy with these great products.

Italian Charms

Huge selection of Italian charms and jewelry. FORZIERI.com

The world largest online retailer for Premium Italian Fashions.
---
Cuisine/Food CyberCucina.com
Fine gourmet foods and more. Gustobene.com
Use code Italiansruspromo to receive a 10% discount off your entire purchase.
---
Travel Tour Italy
Customize your trip to Italy.