---
Resources
Art, Cuisine, Famous Italians, Festivals, Folklore, Genealogy, Holidays, Hotels, Photos, Real Estate, Sports, Travel and More
---
Guides
---
Surname Collection
Add your name to the collection.
---
Recipes
Authentic Italian recipes for you to enjoy.
---
Photo Galleries
Enjoy photos of Italy, wine making & more.
---
Proverbi
Proverbs in Italian & English.
---
Our Paesani
Weekly column dedicated to today's Italy.
by Francesca Di Meglio
---
Italian Memories
Articles on growing up Italian.
by Cookie Curci
---
Una Mamma Italiana
Articles for Italian mammas.
by Tiffany Longo
---
Learn Italian
English-Italian guides
Spanish-Italian guides.
---
Molto Italiano
Sign up for our FREE newsletter.
---
Trivia
Test your knowledge of Italy.
---
Michael Amante Breaks Out of His Shell on New CD
Michael Amante

Listeners to Michael Amante's latest CD Tell Her I Love Her (Victor, September 2003) will not be able to get his booming voice belting out, "My, my, my Delilah" out of their heads. The tenor, whose first album featured only classic Italian songs, branches out to include some American tunes on his sophomore effort. His utter joy at being able to sing his favorites - from "Young Girl" to "Crying" - is evident in his every syllable. As a result, Amante will have you singing all day, too.

His debut album, which immediately landed at number one on Billboard's charts, featured only Italian orchestral songs, and was a much more traditional, rigid compilation. This new CD, however, showcases a more vivacious and festive Amante. It is another side to the artist, who was discovered singing for his dinner in a New York restaurant and has been rising ever since. This latest incarnation of Amante is more fun!

A second-generation Italian American, he did not totally abandon his roots. Amante still takes a stab at plenty of Italian songs, including "Caruso" and "Core 'ngrato." Although his voice is dramatic and strong, his American accent is a bit hard to get over, especially for those raised on the original versions or interpretations by native Italians like Andrea Bocelli or the incomparable Luciano Pavarotti.

All the same, audiences will appreciate Amante's devotion to his heritage and his desire to keep the Italian classics alive by introducing them to a new generation of Americans. He even pays homage to the legendary Totò by singing a catchy lounge version of "Mala Femmena." Gotta love that!

As of October 3, 2003, Tell Her I Love Her reached number five on Billboard's classical cross-over chart. Produced by Phil Ramone, who has worked with stars like Frank Sinatra and Pavarotti himself, this disc also features "Last Morning of My Life," a tender love song that Amante co-composed. According to his record label, Amante is emerging as quite a writer.

The tenor, who lives in Queens with his infant daughter and wife Seema, who is expecting their second child in the spring, certainly has lots to sing about. In addition to his growing family and entertaining second album, Amante will be taking on the leading role in an upcoming Broadway play about the life of singer Mario Lanza. And, ladies, he looks terrific on the latest album cover. He has got the skills and the style. A star is born!
| | |
| --- | --- |
| | |
| | |
Follow Us
Featured Item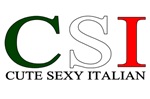 Shirts & Novelties
---
Partner Links Shops/Stores Italiansrus Gear
Proudly display the colors of Italy with these great products.

FORZIERI.com

The world largest online retailer for Premium Italian Fashions.
---
Travel