Volume 19, No. 9
---
NEWSLETTER FEATURES
St. Patrick Is a Paesano
March 17 is the feast day of St. Patrick, known to Italians as San Patrizio. Although Patrizio's celebration is overshadowed – in Italy at least – by that of San Giuseppe (St. Joseph) on March 19, Patrizio has his own ties to Italy. His parents were Romans.
How to Dye Easter Eggs Using Onions
Did you know that you could make golden brown Easter eggs with the skin of onions? This Italian tradition has been in my family for generations and it is a great way to make dyed eggs for Easter. Here are some step-by-step instructions for you to make your own dyed eggs using onion skins.
Share a Photo, Recipe, Story or Tradition
Italy is a wonderful and magnificent country filled with traditions, stories, incredible food and breath taking views. With your help Italiansrus.com can help show the world just what Italy has to offer. There are four ways you can help so just select one of the choices and you will be presented with guidelines and a form you can use to contact me about your submission.
_________________________________________________________________________
Molto Italiano featured item:
Vita
In April 1903, Diamante, age twelve, and Vita, age nine, are sent by their poor families in southern Italy to make a life for themselves in America. Theirs is an unforgettable love story, a riveting tale of immigrant survival and hope that takes them from the crime-ridden tenements of Little Italy to the brutal rail yards of the Midwest, on paths that cross with the Black Hand, Caruso, and Chaplin. It is a story that reaches across decades, to the son of Vita, who would travel as far as Italy to find his roots and the man who could have been his father.
_________________________________________________________________________
MOLTO ITALIANO FEATURES
* Photo of the Week
Lago di Barrea
This lake is located in the National Park of Abruzzo, Lazio and Molise (Parco Nazionale d'Abruzzo, Lazio e Molise). The park is often referred to as the National Park of Abruzzo or Abruzzo National Park. The lake is situated in the eastern portion of the park in the town of Barrea.
* Proverb
Chi non l'occhio vede, col cuor crede.
* Recipe
Here is a great recipe for spinach frittata.
---
FEATURED PARTNER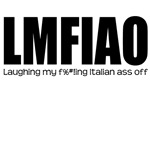 Italian Clothing & Novelties
Proudly display the colors of Italy with these great products. There are over 100 different designs to choose from and over 50 products per design. Shop from home with the comfort of knowing that your order is backed by a 100% Money Back Guarantee. This 30-Day Guarantee gives you plenty of time to check items for color, high-quality, and size for yourself, family and friends.