Volume 19, No. 3
---
NEWSLETTER FEATURES
Il Giardino dei Tarocchi (The Tarot Garden)
If you are travelling to Tuscany and looking for something slightly different you may want to venture to Pescia Fiorentina, Capalbio in the province of Grosseto and visit Il Giardino dei Tarocchi (The Tarot Garden). As the name suggest this garden is based on the esoteric tarot and features 22 sculptures depicting the Major Arcana of the Tarot cards.
Once Upon a Time in Pescara
When I was a kid, my nonna Isolina would baby-sit me and my cousins by telling us fascinating family tales. Nonna had an endless supply of these intriguing Old World family stories. My cousins and I were happily bewitched by these wonderful tales.
Share a Photo, Recipe, Story or Tradition
Italy is a wonderful and magnificent country filled with traditions, stories, incredible food and breath taking views. With your help Italiansrus.com can help show the world just what Italy has to offer. There are four ways you can help so just select one of the choices and you will be presented with guidelines and a form you can use to contact me about your submission.
_________________________________________________________________________
Molto Italiano featured item:
Intermediate Italian Short Stories
he best part of learning a new language is experiencing the culture and diving into activities that will enrich your life and vocabulary. The best way to learn a new language is by reading, and in this Italian book you will find yourself turning page after page to get to the end of each captivating story that will engage your mind and help you improve your Italian.
_________________________________________________________________________
MOLTO ITALIANO FEATURES
* Photo of the Week
Villa Aldobrandini
A caretaker's cottage at Villa Aldobrandini, originally built by Pope Clement VIII at the turn of the 16th century.
* Proverb
Non dare consigli a chi non il chiede.
* Recipe
Here is a great recipe for Spaghetti Carbonara.
---
FEATURED PARTNER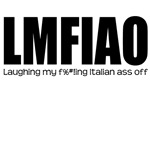 Italian Clothing & Novelties
Proudly display the colors of Italy with these great products. There are over 100 different designs to choose from and over 50 products per design. Shop from home with the comfort of knowing that your order is backed by a 100% Money Back Guarantee. This 30-Day Guarantee gives you plenty of time to check items for color, high-quality, and size for yourself, family and friends.