Volume 19, No. 2
---
NEWSLETTER FEATURES
Scala dei Turchi (Turkish Steps)
Located on Sicily's southern coast between Realmonte and Porto Empedocle in Agrigento is the naturally carved staircase that has formed from centuries of wind and rain. The majestic white staircase known as the Scala dei Turchi (Turkish Steps) cascades down the cliff into the beautiful blue waters of the Mediterranean Sea.
Capuchin Catacombs
Located in the city of Palermo on the Italian island of Sicily is without a doubt one of the most interesting, intriguing and gruesome tourist spots in the world. This place, which is sometimes referred to as the Museum of Death, contains some 8000 mummified bodies that date back to the 16th century. These bodies line the walls of the Catacombs, which is located directly underneath the Capuchin Convent.
Share a Photo, Recipe, Story or Tradition
Italy is a wonderful and magnificent country filled with traditions, stories, incredible food and breath taking views. With your help Italiansrus.com can help show the world just what Italy has to offer. There are four ways you can help so just select one of the choices and you will be presented with guidelines and a form you can use to contact me about your submission.
_________________________________________________________________________
Molto Italiano featured item:
The Other End of the Line
A wave of refugees has arrived on the Sicilian coast, and Inspector Montalbano and his team have been stationed at port, alongside countless volunteers, to receive and assist the newcomers. Meanwhile, Livia has promised their presence at a friend's wedding, and the inspector, agreeing to get a new suit tailored, meets the charming master seamstress Elena Biasini. But while on duty at the dock one late night, tragedy strikes, and a woman is found gruesomely murdered.
_________________________________________________________________________
MOLTO ITALIANO FEATURES
* Photo of the Week
Formia
A view of the Mediterranean Sea off the coast of Formia. Formia is a city in the province of Latina within the Lazio region.
* Proverb
Chi sputa in su, lo sputo gli torno sul viso.
* Recipe
Here is a great recipe for biscotti.
---
FEATURED PARTNER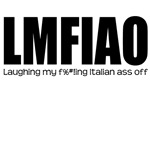 Italian Clothing & Novelties
Proudly display the colors of Italy with these great products. There are over 100 different designs to choose from and over 50 products per design. Shop from home with the comfort of knowing that your order is backed by a 100% Money Back Guarantee. This 30-Day Guarantee gives you plenty of time to check items for color, high-quality, and size for yourself, family and friends.