Volume 18 No. 11
---
Molto Italiano featured item:
The Red Lily Crown: A Novel of Medici Florence
April, 1574, Florence, Italy. Grand Duke Cosimo de' Medici lies dying. The city is paralyzed with dread, for the next man to wear the red lily crown will be Prince Francesco: despotic, dangerous, and obsessed with alchemy.
Chiara Nerini, the troubled daughter of an anti-Medici bookseller, sets out to save her starving family by selling her dead father's rare alchemical equipment to the prince. Instead she is trapped in his household—imprisoned and forcibly initiated as a virgin acolyte in Francesco's quest for power and immortality. Undaunted, she seizes her chance to pursue undreamed-of power of her own.
---
NEWSLETTER FEATURES
Female Perspectives Women of talent and commitment 1861-1926
From March 7 to May 26, 2019 the Gallerie degil Uffizi is hosting an exhibition devoted to the professional commitment and talent of women in Italy from the late 19th and to the early 20th centuries. The time frame chosen starts and ends with two very specific events: women joining the Fratellanza Artigianale or Artisans' Brotherhood in 1861, and Grazia Deledda winning the Nobel Prize for her novel Canes in the Wind in 1926.
The Purgatory Trial of Vito Marcantonio
Roberto Ragone plays the progressive congressman Vito Marcantonio who was denied a Catholic burial. This play centers around a plea by Marcantonio to be released from purgatory.
Share a Photo, Recipe, Story or Tradition
Italy is a wonderful and magnificent country filled with traditions, stories, incredible food and breath taking views. With your help Italiansrus.com can help show the world just what Italy has to offer. There are four ways you can help so just select one of the choices and you will be presented with guidelines and a form you can use to contact me about your submission.
MOLTO ITALIANO FEATURES
* Photo of the Week
Scopello
The beautiful town of Scopello is situated on the gulf of Castellammare in the province of Trapani, Sicily.
* Proverb
Confidenza toglie riverenza.
* Recipe
Here is a great recipe for lentil and tomato soup.
---
FEATURED PARTNER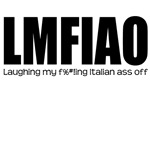 Italian Clothing & Novelties
Proudly display the colors of Italy with these great products. There are over 100 different designs to choose from and over 50 products per design. Shop from home with the comfort of knowing that your order is backed by a 100% Money Back Guarantee. This 30-Day Guarantee gives you plenty of time to check items for color, high-quality, and size for yourself, family and friends.