Volume 18 No. 10
---
Molto Italiano featured item:
The Secret of Altamura: Nazi Crimes, Italian Treasure
It is 1943, and the Nazis control large parts of Italy. Colonel Anselm Bernhardt devotes his attention to stealing Italian art – and having his way with Italian women – but there is one great treasure that he covets even more.
In present day, his grandson swears to make amends for Bernhardt's crimes, but is bitten by the same temptation and begins his search for the mysterious, historically vital treasure in southern Italy… a secret that can change the course of history.
---
NEWSLETTER FEATURES
Carnival of Putignano

One of the oldest and definitely the longest event in the world takes place in the ancient town of Putignano in the Puglia region of Italy. The origins date back to 1394 when the Knights of Malta moved the relics of St. Stephen from Monolpoli to Putignano to protect them from looters. They were joined by peasants and the occasion was celebrated with dancing, music and singing. Each year on St. Stephen's Day (December 26th) they have the Festa delle Propaggini to mark the start of the Carnevale season, which ends with the ringing of the bell on Shrove Tuesday.
Carnevale di Venezia
The Carnevale is one of the long standing traditions of the city of Venice. One of the great traditions associated with the Carnevale is the costumes and in particular the masks worn by the people. Masks became such an intrigal part that the artisans that created them were even recognized with their own guild in 1436.
Share a Photo, Recipe, Story or Tradition
Italy is a wonderful and magnificent country filled with traditions, stories, incredible food and breath taking views. With your help Italiansrus.com can help show the world just what Italy has to offer. There are four ways you can help so just select one of the choices and you will be presented with guidelines and a form you can use to contact me about your submission.
MOLTO ITALIANO FEATURES
* Photo of the Week
Sassi di Matera
A beautiful view of the Sassi di Matera, which means stones of Matera. These are ancient cave dwellings located in the city of Matera, Basilicata.
* Proverb
Il denaro è un buon servo e un cattivo padrone.
* Recipe
Here is a great recipe for alfredo sauce.
---
FEATURED PARTNER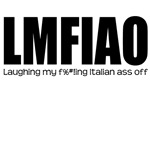 Italian Clothing & Novelties
Proudly display the colors of Italy with these great products. There are over 100 different designs to choose from and over 50 products per design. Shop from home with the comfort of knowing that your order is backed by a 100% Money Back Guarantee. This 30-Day Guarantee gives you plenty of time to check items for color, high-quality, and size for yourself, family and friends.