Volume 17 No. 33
---
Molto Italiano featured item:
My Very Italian Holiday: The perfect feel good romantic comedy
When Gina's husband passes away, she is left all alone. Her friends and her sister try to cheer Gina up with wine-fuelled karaoke nights and plenty of gossip – yet life has never quite been the same.
But when an Italian guest comes to stay at her B&B, change is in the air. Before long, Gina finds herself in Lake Como, thousands of miles away from her life – and her heartbreak. But it's not all picturesque mountains, pizza and prosecco. The crumbling lakeside guesthouse that Fabio has inherited from his family needs some serious TLC. Is she up to the challenge?
---
NEWSLETTER FEATURES
Cascate del Mulino
The Cascate del Mulino di Saturnia is a hidden gem located in the Maremma area of southern Tuscany. The Cascatelle (how the locals refer to the area) is a thermal spring with cascading waterfalls and natural pools.
The Fisherman's Feast
This festival is held every year around the Feast of the Assumption, which is August 15, on the corner of Fleet and North Streets in Boston's North End.
Share a Photo, Recipe, Story or Tradition
Italy is a wonderful and magnificent country filled with traditions, stories, incredible food and breath taking views. With your help Italiansrus.com can help show the world just what Italy has to offer. There are four ways you can help so just select one of the choices and you will be presented with guidelines and a form you can use to contact me about your submission.
MOLTO ITALIANO FEATURES
* Photo of the Week
Madonna del Piano Procession
The painting is draped in a cloth and placed on a platform. The platform is raised and select members perch it on their shoulder as the procession makes it way to the Santuario della Madonna del Piano, which is located in Ausonia, Frosinone.
* Proverb
Lontani dagli occhi, lontani dal cuore.
* Recipe
Here is a great recipe for escarole and beans.
---
FEATURED PARTNER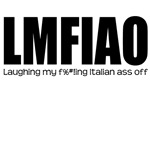 Italian Clothing & Novelties
Proudly display the colors of Italy with these great products. There are over 100 different designs to choose from and over 50 products per design. Shop from home with the comfort of knowing that your order is backed by a 100% Money Back Guarantee. This 30-Day Guarantee gives you plenty of time to check items for color, high-quality, and size for yourself, family and friends.