Volume 17 No. 45
---
Molto Italiano featured item:
The Original Bialetti Moka Express
The Bialetti Moka celebrates more than 80 years of classic design elegance and technological simplicity. From the early 1950s to the present day, Bialetti has manufactured over 200 million coffee makers. In particular, the Moka Express has become iconic and has allowed millions of consumers to enjoy great Italian coffee. The Moka produces a rich, authentic espresso in just minutes. The aluminum pot features Bialetti's distinctive eight-sided shape that allows it to diffuse heat perfectly to enhance the aroma of your coffee.
---
NEWSLETTER FEATURES
Tarantasio Dragon
Legend tells us of a great dragon like creature named Tarantasio that roamed the Po Valley during the 12th and 13th centuries. This creature resided in Lake Gerundo between Milan, Lodi and Cremona. Lake Gerundo no longer exists as it was drained, but there was a time where it was home to this creature that terrorized the land and had an appetite for humans especially children.
Short Fences Kept Italian American Folks Neighborly
Most of the memories I recall from my childhood concern my family circle. They were the people who cast the greatest reflection on my life. However, there were times when a stranger became a close part of our daily living and in the process became a part of our family.
Share a Photo, Recipe, Story or Tradition
Italy is a wonderful and magnificent country filled with traditions, stories, incredible food and breath taking views. With your help Italiansrus.com can help show the world just what Italy has to offer. There are four ways you can help so just select one of the choices and you will be presented with guidelines and a form you can use to contact me about your submission.
MOLTO ITALIANO FEATURES
* Photo of the Week
Riomaggiore
Looking down at the beautiful and majestic sea from Riomaggiore.
* Proverb
Dei morti parla bene.
* Recipe
Here is a great recipe for pizzelle.
---
FEATURED PARTNER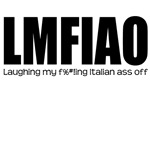 Italian Clothing & Novelties
Proudly display the colors of Italy with these great products. There are over 100 different designs to choose from and over 50 products per design. Shop from home with the comfort of knowing that your order is backed by a 100% Money Back Guarantee. This 30-Day Guarantee gives you plenty of time to check items for color, high-quality, and size for yourself, family and friends.