Volume 17 No. 32
---
Molto Italiano featured item:
One Summer in Rome
Mary Smith is turning her very ordinary life upside-down! She's bought herself a one-way ticket to Rome and is ready for a summer she'll never forget.
Men might be off the cards for waitress Mary, but within hours of arriving at the utterly charming family-run La Dolce Vita pizzeria, she's already fallen in love with the bustling capital!
---
NEWSLETTER FEATURES
Sagra delle Cozze
This national level festival takes place in the coastal town of Pedaso in the Marche region of Italy every August and is a must if you enjoy mussels and spaghetti.
7 Unique Italian Wedding Favors
When Italians attend a wedding, baptism, communion, or other formal family affair, they expect bomboniere, or Italian wedding favors. This is serious business. People need to show off their goodies in their China closet for years to come. Many Americans have adopted the tradition, but they have mostly gone the route of edible treats.
Share a Photo, Recipe, Story or Tradition
Italy is a wonderful and magnificent country filled with traditions, stories, incredible food and breath taking views. With your help Italiansrus.com can help show the world just what Italy has to offer. There are four ways you can help so just select one of the choices and you will be presented with guidelines and a form you can use to contact me about your submission.
MOLTO ITALIANO FEATURES
* Photo of the Week
Castello Marchesale
The Castello Marchesale located in the town of Palmoli (Chieti Abruzzo) was built in 1095 by Pandolfo di Sangro.
* Proverb
Menare il can per l'aia.
* Recipe
Here is a great recipe for eggplant panini.
---
FEATURED PARTNER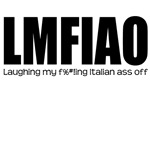 Italian Clothing & Novelties
Proudly display the colors of Italy with these great products. There are over 100 different designs to choose from and over 50 products per design. Shop from home with the comfort of knowing that your order is backed by a 100% Money Back Guarantee. This 30-Day Guarantee gives you plenty of time to check items for color, high-quality, and size for yourself, family and friends.