Volume 17 No. 34
---
Molto Italiano featured item:
My Love Affair With Italy
As a 17-year old Italian American from New Jersey, Debbie became obsessed with the idea of traveling to Italy, and during the summer after completing her junior year in high school, she realized her dream when her parents agreed to send her on a student tour for 40 days with no one she knew. Friendships form with another American student, and with Cesare, an Italian medical student living in the same "hotel." But what transpires is something no one ever expected, especially her mom.
---
NEWSLETTER FEATURES
Alcantara Gorge
Thousands of years ago a battle between two forces of nature collided and after all the dust was settled, a beautiful majestic place was created and it is the jewel of Sicily, the Alcantara Gorge.
Back to School in Italy
In Italy, people consider the summer, especially August with its vacation days and Ferragosto celebration, magical. No one would take that away from children (or adults for that matter) with reminders of the impending school year. It would be sacrilege. Despite this, however, the kids do have summer homework that is not for the faint of heart. Somehow, though, the students still manage to spend their days on the beach without a care in the world, and they get their homework done, too, even if it's completed as they walk into school on the first day back.
Share a Photo, Recipe, Story or Tradition
Italy is a wonderful and magnificent country filled with traditions, stories, incredible food and breath taking views. With your help Italiansrus.com can help show the world just what Italy has to offer. There are four ways you can help so just select one of the choices and you will be presented with guidelines and a form you can use to contact me about your submission.
MOLTO ITALIANO FEATURES
* Photo of the Week
Tocco da Casauria
The town of Tocco da Casauria is located in the province of Pescara. Located behind the town is the Majella, which is a limestone massif that is part of the Central Apennines, in Abruzzo.
* Proverb
Il bisogno aguzza l'ingegno.
* Recipe
Here is a great recipe for fennel salad.
---
FEATURED PARTNER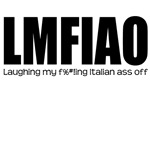 Italian Clothing & Novelties
Proudly display the colors of Italy with these great products. There are over 100 different designs to choose from and over 50 products per design. Shop from home with the comfort of knowing that your order is backed by a 100% Money Back Guarantee. This 30-Day Guarantee gives you plenty of time to check items for color, high-quality, and size for yourself, family and friends.