Volume 18 No. 16
---
Molto Italiano featured item:
Galileo for Kids: His Life and Ideas, 25 Activities
Galileo, one of history's best-known scientists, is introduced in this illuminating activity book. Children will learn how Galileo's revolutionary discoveries and sometimes controversial theories changed his world and laid the groundwork for modern astronomy and physics. This book will inspire kids to be stargazers and future astronauts or scientists as they discover Galileo's life and work. Activities allow children to try some of his theories on their own, with experiments that include playing with gravity and motion, making a pendulum, observing the moon, and painting with light and shadow. Along with the scientific aspects of Galileo's life, his passion for music and art are discussed and exemplified by period engravings, maps, and prints.
---
NEWSLETTER FEATURES
How to Host an Italian Easter Party for the Ages
Easter in Italy is all about faith and food. Some people spend the Holy Days and Easter Sunday in Rome with nearby Vatican City as their ultimate destination. I, on the other hand, have spent the holy season in Ischia, an island off the coast of Naples in Italy that is the home of my ancestors and husband. But you don't have to go to Italy to experience an authentic Italian Easter. In my experience, this is all you need to pull it off.
La Madonna che Scappa in Piazza
On Easter Sunday the ancient city of Sulmona, which is located in the Abruzzo region, reenacts that moment when Mary sees her resurrected son Jesus for the first time. The celebration is appropriately called La Madonna che scappa in piazza (Our Lady running in the Square) and it has been a tradition that the town of Sulmona has celebrated since the 18th century.
Palm Weaving Tutorials
One of the fascinating traditions that my family does for Palm Sunday is to create decorative designs using palms. Here are a variety of tutorials containing step by step guides to help you create a braid, cone, cross, crown of thorns and a rose bud from palms.
Share a Photo, Recipe, Story or Tradition
Italy is a wonderful and magnificent country filled with traditions, stories, incredible food and breath taking views. With your help Italiansrus.com can help show the world just what Italy has to offer. There are four ways you can help so just select one of the choices and you will be presented with guidelines and a form you can use to contact me about your submission.
MOLTO ITALIANO FEATURES
* Photo of the Week
Gesù Condannato a Morte
Located on the Montagna Spaccata in Gaeta is a passageway called the Stations of the Cross that leads to the Chapel of San Filippo Neri. As you walk through the passageway you encounter each station on the wall. These paints were done by Raimondo Bruno in 1849.
* Proverb
La pecora che bela perde il boccone.
* Recipe
Here is a great recipe for Sicilian fennel salad.
---
FEATURED PARTNER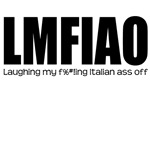 Italian Clothing & Novelties
Proudly display the colors of Italy with these great products. There are over 100 different designs to choose from and over 50 products per design. Shop from home with the comfort of knowing that your order is backed by a 100% Money Back Guarantee. This 30-Day Guarantee gives you plenty of time to check items for color, high-quality, and size for yourself, family and friends.