Volume 17 No. 25
---
Molto Italiano featured item:
Italian Word Puzzles
Books in the innovative Foreign Language Word Puzzles series help students of foreign languages learn vocabulary and word meanings by working out a succession of fun-to-do word puzzles. Featured in each book are crosswords, word crosses, scrambled-letter puzzles, and cryptograms. All questions and clues are printed in English, but all answers in this puzzle book must be in Italian. Puzzles are arranged in order of difficulty, beginning with Easy crosswords, word crosses, scrambled letters, and cryptograms, then progressing in the same order of puzzle types to Moderate Level, Tough Puzzles, and finally to Challenging Puzzles.
---
NEWSLETTER FEATURES
Giostra del Saracino
If you happen to be near the town of Arezzo in June or September, you will want to make sure you witness the Joust of the Saracen. This historical reenactment is filled with pageantry and games as the town is transformed back to the 14th century and all those that participate are dressed in costumes from that period.
Trendy Beaches, Deceiving Witches
Legends say that no woman can become a witch just by a wink of the eye in Romagna. Come the witches' night between the 23 and 24 of June the town of San Giovanni in Marignano, in province of Rimini is filled with witches who are said to be particularly active and deceiving this night.
Share a Photo, Recipe, Story or Tradition
Italy is a wonderful and magnificent country filled with traditions, stories, incredible food and breath taking views. With your help Italiansrus.com can help show the world just what Italy has to offer. There are four ways you can help so just select one of the choices and you will be presented with guidelines and a form you can use to contact me about your submission.
MOLTO ITALIANO FEATURES
* Photo of the Week
The Fontana del Gigante (Fountain of the Giant)
The Fontana del Gigante (Fountain of the Giant) was designed in the 1600s by Michelangelo Naccherino and Pietro Bernini for the Royal Palace of Naples. It was later moved to the Palace of the Immacolatella (this statue is also called the Fontana dell'Immacolatella). Then in 1905 it was moved to its present location on the via Partenope, near the Castel dell'Ovo.
* Proverb
Semper il mal non vien per nuocere.
* Recipe
Here is a great recipe for cannoli pie.
---
FEATURED PARTNER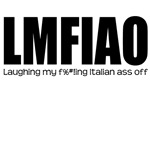 Italian Clothing & Novelties
Proudly display the colors of Italy with these great products. There are over 100 different designs to choose from and over 50 products per design. Shop from home with the comfort of knowing that your order is backed by a 100% Money Back Guarantee. This 30-Day Guarantee gives you plenty of time to check items for color, high-quality, and size for yourself, family and friends.