Volume 17 No. 42
---
Molto Italiano featured item:
Italian For Kids Card Game – Learn Italian for Beginners
Learning a new language doesn't have to be boring. Italian playing cards immerse you in a new language & improve your retention while you have fun with games like poker, hearts, solitaire, and more.
Forget old fashioned language and useless sayings. We collected 52 must-know Italian phrases used most frequently by beginners and travelers – these are essential whether you're learning at home or traveling.
Our brain is incredible at processing image & countless scientific studies confirm the power of visuals in learning. These visuals decrease learning time, increase recall, and boost retention.
Save valuable time & make sure you sound out new phrases correctly with easy-to-follow spelling. Learning it right from the start saves you years of frustration from having to unlearn bad pronunciation.
---
NEWSLETTER FEATURES
Italian American Hockey Players
Italian Americans have played a big part in the sport of hockey. I have compiled a list of players of Italian heritage that have played pro hockey. I am sure this list is not complete, but you will get a good sense of just how many players of Italian heritage have taken part in one of the fastest sports in the world.
I Became the First Woman in Italy to Graduate From Medical School
She was the first woman in Italy to become a doctor and she was ahead of her time and helped revolutionize the way we teach children. Can you figure out who this important Italian woman is?
Share a Photo, Recipe, Story or Tradition
Italy is a wonderful and magnificent country filled with traditions, stories, incredible food and breath taking views. With your help Italiansrus.com can help show the world just what Italy has to offer. There are four ways you can help so just select one of the choices and you will be presented with guidelines and a form you can use to contact me about your submission.
MOLTO ITALIANO FEATURES
* Photo of the Week
Spiaggia Grande
This photo was taken on the Spiaggia Grande (Big Beach) in Positano. On the left is the Buca di Bacco Hotel and Restaurant. To the right is the Spiaggia Grande and straight ahead are the houses and buildings that line the hills of Positano.
* Proverb
Mangiare per vivere e non vivere per mangiare.
* Recipe
Here is a great recipe for pollo alla valdostana.
---
FEATURED PARTNER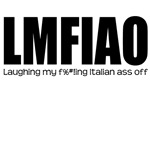 Italian Clothing & Novelties
Proudly display the colors of Italy with these great products. There are over 100 different designs to choose from and over 50 products per design. Shop from home with the comfort of knowing that your order is backed by a 100% Money Back Guarantee. This 30-Day Guarantee gives you plenty of time to check items for color, high-quality, and size for yourself, family and friends.