Volume 17 No. 49
---
Molto Italiano featured item:
Dirty Italian
Next time you're in Italy or just chattin' in Italian with your friends, drop the textbook formality and bust out with expressions they never teach you in school, including:
Cool slang
Funny insults
Explicit sex terms
Raw swear words
Dirty Italian teaches the casual expressions heard every day on the streets of Italy:
---
NEWSLETTER FEATURES
Lighting of the Christmas Tree
One of the things I love about Italy is the different and unique traditions they do throughout the year and in particular during various holidays. One tradition that takes place during the Christmas season is the lighting of the Christmas tree in the city of Gubbio, Umbria.
Manarola's Illuminated Presepe
An enduring tradition that has been a part of the Christmas season in Italy is the beautiful nativity scenes (presepio) that decorate homes and towns throughout Italy. Over the years these scenes have expanded to include more than just the Holy Family and the three Wise Men. They can be elaborate works of art that depict entire villages. Of all the scenes throughout Italy the one in Manarola stands out and can be seen for miles.
Share a Photo, Recipe, Story or Tradition
Italy is a wonderful and magnificent country filled with traditions, stories, incredible food and breath taking views. With your help Italiansrus.com can help show the world just what Italy has to offer. There are four ways you can help so just select one of the choices and you will be presented with guidelines and a form you can use to contact me about your submission.
MOLTO ITALIANO FEATURES
* Photo of the Week
Chiesa Rupestre di San Michele Arcangelo a Caprile
Located in the mountains of Caprile in Roccasecca is the Chiesa Rupestre di San Michele Arcangelo (little chapel dedicated to St. Michael the Archangel).
* Proverb
A tavola non si invecchia.
* Recipe
Here is a great recipe for baccalà salad.
---
FEATURED PARTNER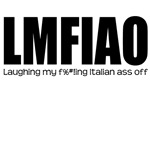 Italian Clothing & Novelties
Proudly display the colors of Italy with these great products. There are over 100 different designs to choose from and over 50 products per design. Shop from home with the comfort of knowing that your order is backed by a 100% Money Back Guarantee. This 30-Day Guarantee gives you plenty of time to check items for color, high-quality, and size for yourself, family and friends.