---
Resources
Art, Cuisine, Famous Italians, Festivals, Folklore, Genealogy, Holidays, Hotels, Photos, Real Estate, Sports, Travel and More
---
Guides
---
Surname Collection
Add your name to the collection.
---
Recipes
Authentic Italian recipes for you to enjoy.
---
Photo Galleries
Enjoy photos of Italy, wine making & more.
---
Proverbi
Proverbs in Italian & English.
---
Our Paesani
Weekly column dedicated to today's Italy.
by Francesca Di Meglio
---
Italian Memories
Articles on growing up Italian.
by Cookie Curci
---
Una Mamma Italiana
Articles for Italian mammas.
by Tiffany Longo
---
Learn Italian
English-Italian guides
Spanish-Italian guides.
---
Molto Italiano
Sign up for our FREE newsletter.
---
Trivia
Test your knowledge of Italy.
---
How to Make a Bomboniera
The bomboniera is a traditional keepsake given to guests in appreciation of their attendance to your special occasion. Below you will find a simple step by step instructional guide to help create your own keepsake for that special occasion.
---
Instructions:
Purchase the gift that you want to give your guests. This can be some thing simple like a small figurine or something elaborate like a silver frame or a small bottle of champagne.
Purchase the tulle, which is a netting or mesh, from a bridal boutique or fabric store.
Purchase the confetti from a gourmet market or candy shop. To figure out how many you need take the number of bombonieres you are making and multiply it by 5.
Purchase ribbon from a craft store. Each favor will need approximately a 16 inch piece of ribbon.
Have place cards made with the name of the spouses and the date of the wedding on them. This is something that you can do on a computer if you have the proper software and printer or you can have them made at a printing shop.
Cut 16 inch strands of ribbon.
Use a small paper plate or cut out a 6 inch circular pattern from a piece of cardboard.
Trace the circular pattern onto the tulle and cut them out.
Place 5 confetti in the center of the tulle that you cut.
Pick up the sides of the tulle and form a little pouch with the confetti in the center.
Get a hole puncher and put a hole in the corner of each place card.
Determine where on the gift you want to attach the pouch and place card.
Take the ribbon and thread it through the place card so that it is in the center of the ribbon.
Take that piece of ribbon and tie the pouch to the gift by forming a bow. Tie the bow like you were tying a shoe.
Look at the finished product and make any necessary adjustments. Make sure each end of the ribbon match in length, the place card is positioned the way you want it, fluff up the top of the pouch to give it a nice look, etc.
Helpful Hints:
Purchase extra amounts of each item. This will cover any mistakes that may happen and it will give you extra in the event that you may need them.
You can use the same color ribbon as the bridal party is wearing.
The size of the ribbon may vary depending on the gift you have picked out. Tie a piece of ribbon on the gift to see if you like it to be longer or shorter.
The color of the confetti is generally white for weddings. This represents purity/virginity.
| | |
| --- | --- |
| | |
| | |
Follow Us
Featured Item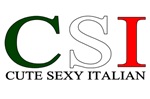 Shirts & Novelties
---
Partner Links Shops/Stores Italiansrus Gear
Proudly display the colors of Italy with these great products.

Italian Charms

Huge selection of Italian charms and jewelry. FORZIERI.com

The world largest online retailer for Premium Italian Fashions.
---
Cuisine/Food CyberCucina.com
Fine gourmet foods and more. Gustobene.com
Use code Italiansruspromo to receive a 10% discount off your entire purchase.
---
Travel Tour Italy
Customize your trip to Italy.