---
Resources
Art, Cuisine, Famous Italians, Festivals, Folklore, Genealogy, Holidays, Hotels, Photos, Real Estate, Sports, Travel and More
---
Guides
---
Surname Collection
Add your name to the collection.
---
Recipes
Authentic Italian recipes for you to enjoy.
---
Photo Galleries
Enjoy photos of Italy, wine making & more.
---
Proverbi
Proverbs in Italian & English.
---
Our Paesani
Weekly column dedicated to today's Italy.
by Francesca Di Meglio
---
Italian Memories
Articles on growing up Italian.
by Cookie Curci
---
Una Mamma Italiana
Articles for Italian mammas.
by Tiffany Longo
---
Learn Italian
English-Italian guides
Spanish-Italian guides.
---
Molto Italiano
Sign up for our FREE newsletter.
---
Trivia
Test your knowledge of Italy.
---
Serenata
Spigno Saturnia (Lazio)
Ecchete1 bella mia fulminante
chi te glia 'ngannacati 'ssi begli pennenti2;
te c'hanno mess'a cammere galanti
addò ce pò gliu frisk'e glio ponente
Quando nasciti tu nascèo 'na rosa,
nascèo 'na pampanella de cerasa3
quando nasciti tu nascèo 'na rosa,
nascèo 'na pampanella de cerasa
nascèo 'na pampanella de cerasa
co 'na vocchella fresca comm'a 'na rosa
Gliu primu ramaglietta che me facisti
'ncora glio tengo frisch'alla finesta
sera e matina me faccio 'na vista
vedo la bella mia quando si veste
Quando se veste pare 'n'angliolista;
gli angioli degli ciele ce fanno 'na festa
ce fanno festa alla città de Roma
co' principi baruni e cardinali.
Rosa simpatica perfetta e fina
ci sei nat'all'aria marina
se a chella sposa gli viene il pianto
ci va glio spus'e ce s'assetta a fianco
Zicchiu ninnella mia ka non è niente
se la tua moglia te porta pe' sospetto
le dici che non hai sonno, non poi dormire
le dici che non hai sonno, che non poi dormire.
Ci vengo a cantà 'ccà, fiore d'olivo,
te dò la bona sera e me ritiro;
Ci vengo a cantà 'ccà, fiore d'olivo,
te dò la bona sera e me ritiro.
1 Eccoti.
2 Chi te li ha messi codesti belli orecchini.
3 Nacque un ranoscello di ciliegio.
---
---
---
Il testo della canzone è tratto dal Libro "Spigno Saturnia Folklore" a cura del Gruppo Folkloristico le Contrade 'redatto da Raffaele TUCCIARONE e stampato da LA POLIGRAFICA - GAETA Maggio 1986.
---
| | |
| --- | --- |
| | |
| | |
Follow Us
Featured Item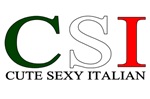 Shirts & Novelties
---
Partner Links Shops/Stores Italiansrus Gear
Proudly display the colors of Italy with these great products.

Italian Charms

Huge selection of Italian charms and jewelry. FORZIERI.com

The world largest online retailer for Premium Italian Fashions.
---
Cuisine/Food CyberCucina.com
Fine gourmet foods and more. Gustobene.com
Use code Italiansruspromo to receive a 10% discount off your entire purchase.
---
Travel Tour Italy
Customize your trip to Italy.