---
Resources
Art, Cuisine, Famous Italians, Festivals, Folklore, Genealogy, Holidays, Hotels, Photos, Real Estate, Sports, Travel and More
---
Guides
---
Surname Collection
Add your name to the collection.
---
Recipes
Authentic Italian recipes for you to enjoy.
---
Photo Galleries
Enjoy photos of Italy, wine making & more.
---
Proverbi
Proverbs in Italian & English.
---
Our Paesani
Weekly column dedicated to today's Italy.
by Francesca Di Meglio
---
Italian Memories
Articles on growing up Italian.
by Cookie Curci
---
Una Mamma Italiana
Articles for Italian mammas.
by Tiffany Longo
---
Learn Italian
English-Italian guides
Spanish-Italian guides.
---
Molto Italiano
Sign up for our FREE newsletter.
---
Trivia
Test your knowledge of Italy.
---
"Oh, Pescator dell'Onda" ("Oh, Fisher in the Ocean")
Venice (Veneto)
1.
Oh pescator dell'onda
Fidelin!
Vieni a pescar in qua!
Colla bella sua barca,
Colla bella se ne va,
Fidelin, lin, là

2.
Che cosa vuol, ch'io peschi?
Fidelin!
L'anel che m'è cascà!
Colla bella sua barca, ecc.

3.
Ti darò cento scudi,
Fidelin!
Sta borsa ricamà.
Colla bella sua barca, ecc.

1.
Oh fisher in the ocean,
Fidelin!
Come fish awhile by me!
In his dainty boat a-plying
He is flying o'er the sea
Flying o'er the sea!

2.
What shall I catch beside you,
Fidelin?
My ring I've lost a-lee!
In his dainty boat a-plying, etc.

3.
I'll give a hundred scudi,
Fidelin!
Yours this gay purse shall be!
In his dainty boat a-plying etc.
---
---
---
Marzo, Eduardo. Songs of Italy; sixty-five Tuscan, Florentine, Lombardian and other Italian folk- and popular songs. New York: G. Schirmer, 1904. 40
---
| | |
| --- | --- |
| | |
| | |
Follow Us
Featured Item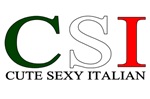 Shirts & Novelties
---
Partner Links Shops/Stores Italiansrus Gear
Proudly display the colors of Italy with these great products.

Italian Charms

Huge selection of Italian charms and jewelry. FORZIERI.com

The world largest online retailer for Premium Italian Fashions.
---
Cuisine/Food CyberCucina.com
Fine gourmet foods and more. Gustobene.com
Use code Italiansruspromo to receive a 10% discount off your entire purchase.
---
Travel Tour Italy
Customize your trip to Italy.