---
Resources
Art, Cuisine, Famous Italians, Festivals, Folklore, Genealogy, Holidays, Hotels, Photos, Real Estate, Sports, Travel and More
---
Guides
---
Surname Collection
Add your name to the collection.
---
Recipes
Authentic Italian recipes for you to enjoy.
---
Photo Galleries
Enjoy photos of Italy, wine making & more.
---
Proverbi
Proverbs in Italian & English.
---
Our Paesani
Weekly column dedicated to today's Italy.
by Francesca Di Meglio
---
Italian Memories
Articles on growing up Italian.
by Cookie Curci
---
Una Mamma Italiana
Articles for Italian mammas.
by Tiffany Longo
---
Learn Italian
English-Italian guides
Spanish-Italian guides.
---
Molto Italiano
Sign up for our FREE newsletter.
---
Trivia
Test your knowledge of Italy.
---
The Vampyre
A Tale
By John William Polidori
Pages 27-31

IT happened that in the midst of the dissipations attendant upon a London winter, there appeared at the various parties of the leaders of the ton a nobleman, more remarkable for his singularities, than his rank. He gazed upon the mirth around him, as if he could not participate therein. Apparently, the light laughter of the fair only attracted his attention, that he might by a look quell it, and throw fear into those breasts where thoughtlessness reigned. Those who felt this sensation of awe, could not explain whence it arose: some attributed it to the dead grey eye, which, fixing upon the object's face, did not seem to penetrate, and at one glance to pierce through to the inward workings of the heart; but fell upon the cheek with a leaden ray that weighed upon the skin it could not pass. His peculiarities caused him to be invited to every house; all wished to see him, and those who had been accustomed to violent excitement, and now felt the weight of ennui, were pleased at having something in their presence capable of engaging their attention. In spite of the deadly hue of his face, which never gained a warmer tint, either from the blush of modesty, or from the strong emotion of passion, though its form and outline were beautiful, many of the female hunters after notoriety attempted to win his attentions, and gain, at least, some marks of what they might term affection: Lady Mercer, who had been the mockery of every monster shewn in drawing-rooms since her marriage, threw herself in his way, and did all but put on the dress of a mountebank, to attract his notice:—though in vain:—when she stood before him, though his eyes were apparently fixed upon her's, still it seemed as if they were unperceived;—even her unappalled impudence was baffled, and she left the field. But though the common adultress could not influence even the guidance of his eyes, it was not that the female sex was indifferent to him: yet such was the apparent caution with which he spoke to the virtuous wife and innocent daughter, that few knew he ever addressed himself to females. He had, however, the reputation of a winning tongue; and whether it was that it even overcame the dread of his singular character, or that they were moved by his apparent hatred of vice, he was as often among those females who form the boast of their sex from their domestic virtues, as among those who sully it by their vices.

About the same time, there came to London a young gentleman of the name of Aubrey: he was an orphan left with an only sister in the possession of great wealth, by parents who died while he was yet in childhood. Left also to himself by guardians, who thought it their duty merely to take care of his fortune, while they relinquished the more important charge of his mind to the care of mercenary subalterns, he cultivated more his imagination than his judgment. He had, hence, that high romantic feeling of honour and candour, which daily ruins so many milliners' apprentices. He believed all to sympathise with virtue, and thought that vice was thrown in by Providence merely for the picturesque effect of the scene, as we see in romances: he thought that the misery of a cottage merely consisted in the vesting of clothes, which were as warm, but which were better adapted to the painter's eye by their irregular folds and various coloured patches. He thought, in fine, that the dreams of poets were the realities of life. He was handsome, frank, and rich: for these reasons, upon his entering into the gay circles, many mothers surrounded him, striving which should describe with least truth their languishing or romping favourites: the daughters at the same time, by their brightening countenances when he approached, and by their sparkling eyes, when he opened his lips, soon led him into false notions of his talents and his merit. Attached as he was to the romance of his solitary hours, he was startled at finding, that, except in the tallow and wax candles that flickered, not from the presence of a ghost, but from want of snuffing, there was no foundation in real life for any of that congeries of pleasing pictures and descriptions contained in those volumes, from which he had formed his study. Finding, however, some compensation in his gratified vanity, he was about to relinquish his dreams, when the extraordinary being we have above described, crossed him in his career.

Return to Italian Folktales Page
---
---
---
Polidori, John William. The Vampyre: a Tale. London: Sherwood, Neely, and Jones, 1819
---
| | |
| --- | --- |
| | |
| | |
Follow Us
Featured Item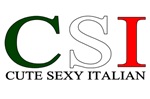 Shirts & Novelties
---
Partner Links Shops/Stores Italiansrus Gear
Proudly display the colors of Italy with these great products.

FORZIERI.com

The world largest online retailer for Premium Italian Fashions.
---
Travel Tour Italy
Customize your trip to Italy.