---
Resources
Art, Cuisine, Famous Italians, Festivals, Folklore, Genealogy, Holidays, Hotels, Photos, Real Estate, Sports, Travel and More
---
Guides
---
Surname Collection
Add your name to the collection.
---
Recipes
Authentic Italian recipes for you to enjoy.
---
Photo Galleries
Enjoy photos of Italy, wine making & more.
---
Proverbi
Proverbs in Italian & English.
---
Our Paesani
Weekly column dedicated to today's Italy.
by Francesca Di Meglio
---
Italian Memories
Articles on growing up Italian.
by Cookie Curci
---
Una Mamma Italiana
Articles for Italian mammas.
by Tiffany Longo
---
Learn Italian
English-Italian guides
Spanish-Italian guides.
---
Molto Italiano
Sign up for our FREE newsletter.
---
Trivia
Test your knowledge of Italy.
---
The Story of Romolo and Remolo
Page 3

When Romolo and Remolo were grown up to be men they learned that in a land not far away were two Princesses named Sabina and Sabinella, who were the two most beautiful, and also the strongest, maidens in the world. And it was also made known that he who would win either must come and conquer her in fight and carry her away by main strength.

So Romolo and Remolo went to their city, and on an appointed day the two Princesses appeared in the public place, ready for the combat. But Romolo advanced with his brother riding on his shoulders, pick-back, sulle spalle, as boys do, and, catching up Sabina with one hand and Sabinella with the other, he ran away like the wind–so rapidly that he soon distanced all pursuers. And when Romolo was tired, Remolo took his place, carrying the sisters and bearing his brother. And Romolo made a song on it:

"Up and down the mountain,
Over the fields and through the rivulets,
Over gray rocks and green grass,
I saw a strange beast run;
It had three bodies and three heads,
Six arms and six legs,
Yet did it never run on more than two.
Read the riddle rightly, if you can."

The two brothers wished to build a new and great city of their own. They went to a certain goddess, who told them:

"The city which ye hope to build will be
The greatest ever seen in Italy;
Above all others it will tower sublime,
And rule the world in a far future time;
But know that at the first, ere it can rise,
It calls for blood and human sacrifice.
I know not where the choice or fate doth lie,
But of ye two the one must surely die."

Now, men were greatly wanting for this city, because in those days there were but few in the land. Then the brothers assembled many wolves, bears, foxes, and all wild beasts, and by their power changed them into men. And they did it thus: A sorcerer took an ox and enchanted it, and slew it, and sang over it a magic song, and left it in an enchanted place. Then the wolves and other wild beasts came by night to the great stone of the sacrifice, by a running stream. A god beheld it. They ate the meat—they became men. These were the first Romans.

Return to Italian Folktales Page
---
---
---
Leland, Charles Godfrey. The Unpublished Legends of Virgil. London: Elliot Stock, 1899. 1-4
---
| | |
| --- | --- |
| | |
| | |
Follow Us
Featured Item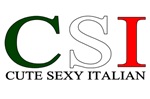 Shirts & Novelties
---
Partner Links Shops/Stores Italiansrus Gear
Proudly display the colors of Italy with these great products.

FORZIERI.com

The world largest online retailer for Premium Italian Fashions.
---
Travel