---
Resources
Art, Cuisine, Famous Italians, Festivals, Folklore, Genealogy, Holidays, Hotels, Photos, Real Estate, Sports, Travel and More
---
Guides
---
Surname Collection
Add your name to the collection.
---
Recipes
Authentic Italian recipes for you to enjoy.
---
Photo Galleries
Enjoy photos of Italy, wine making & more.
---
Proverbi
Proverbs in Italian & English.
---
Our Paesani
Weekly column dedicated to today's Italy.
by Francesca Di Meglio
---
Italian Memories
Articles on growing up Italian.
by Cookie Curci
---
Una Mamma Italiana
Articles for Italian mammas.
by Tiffany Longo
---
Learn Italian
English-Italian guides
Spanish-Italian guides.
---
Molto Italiano
Sign up for our FREE newsletter.
---
Trivia
Test your knowledge of Italy.
---
Il Novellino
XCIX
Here is told a pretty tale of love
A young man of Florence loved a gentle virgin carnally. She did not love him at all, but loved another youth beyond measure, who loved her too, but not nearly so much as the first one.
And this was evident, for the other had abandoned everything, and had worn himselfout, and was quite beside himself; and especially on those days when he did not see her.
A friend of his was sorry for him. After nuch persuasion he took him away to a most plesant place; and there they stayed quietly for a fortnight.
In the meanime, the girl quarrelled with her mother. She sent her maid-servant, and let her tell him whom she loved that she desired to elope with him. He was exceedingly glad. The maid said: she desires you to come on horse-back when it is fully night; she will pretend to go down to the cellars. You will be ready at the door, and she will leap on to the horse behind you; she is light, and can ride well. He replied: I am well agreed.
When they had thus arranged matters, he prepared everything at a place of his. And there were his friends with him, on horse-back, and he let them wait at the gate1, lest it be closed. And he went on a fine horse, and passed before her house. She had not been able to come yet because her mother watched her too carefully. He went away to rejoin his friends. But that other was all worn out in the country, and could no longer contain himself. He had mounted his horse. And his companion was unable to persuade him to remain, and he did not want his company.
That evening he arrived at the wall. All the gates were closed, but he went around the town until he chanced upon that gate where they were. He entered; he went towards her dwelling, not with the hope of finding or of seeing her, but only to see the place. As he stopped opposite the house, the other had but shortly before gone away. The girl unlocked the gate, and called him in an undertone, and told him to draw his horse nearer. This he was not slow in doing; he approached, and she leaped on the horse's back, and away they went.
When they reached the gate, the other youth's companions did not molest them, for they did not know them. Seeing that if it had been he for whom they were waiting, he would have stayed with them. They rode for well-nigh ten leagues, till they arrived at a fair meadow surrounded with very tall fir-trees. Here they alighted, and bound their horse to a tree; and he began to kiss her. Then she recognised him. She became aware of her mishap, and commenced to weep bitterly. But he took to comforting her, shedding tears, and showed her such respect, that she ceased to weep, and began to grow fond of him, seeing that fortune too was on his side.
And she embraced him.
That other youth rode to and fro several times, till he heard her father making a noise in the privy, and learned from the servant the manner of her escape.
He was aghast.
He returned to his companions, and told them. And they replied: Indeed, we did see him pass with her, but we did not know him; and it is so long since, that he may have gone very far, and be off on such and such a road. They forthwith set off to pursue them. They rode until they found them sleeping wrapt in one another's arms; and they gazed upon them in the light of the moon which had risen. Then they were loath to disturb them, and said: Let us wait here till they wake, and then we will do what we have to do: and so they waited until drowsiness came upon them, and they all fell asleep. The other two meanwhile awoke, and found themselves in this situation.
They marvelled. And the youth said: These men have shown us such courtesy, that God forbid we should do them any hurt. So he mounted his horse, and she jumped on to another, among the best that were there, and they rode off.
The others awoke, and raised a great lamentation, because they could not continue to search for them.
1 Of the town. Even in modern Italy the gates of many small towns are closed at night.
---
---
---
Storer, Edward, trans. Il Novellino: The Hundred Old Tales. London: G. Routledge & Sons Ltd.; New York: E. P. Dutton & Co., [1925]. 207-211
---
| | |
| --- | --- |
| | |
| | |
Follow Us
Featured Item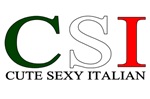 Shirts & Novelties
---
Partner Links Shops/Stores Italiansrus Gear
Proudly display the colors of Italy with these great products.

FORZIERI.com

The world largest online retailer for Premium Italian Fashions.
---
Travel Tour Italy
Customize your trip to Italy.