---
Resources
Art, Cuisine, Famous Italians, Festivals, Folklore, Genealogy, Holidays, Hotels, Photos, Real Estate, Sports, Travel and More
---
Guides
---
Surname Collection
Add your name to the collection.
---
Recipes
Authentic Italian recipes for you to enjoy.
---
Photo Galleries
Enjoy photos of Italy, wine making & more.
---
Proverbi
Proverbs in Italian & English.
---
Our Paesani
Weekly column dedicated to today's Italy.
by Francesca Di Meglio
---
Italian Memories
Articles on growing up Italian.
by Cookie Curci
---
Una Mamma Italiana
Articles for Italian mammas.
by Tiffany Longo
---
Learn Italian
English-Italian guides
Spanish-Italian guides.
---
Molto Italiano
Sign up for our FREE newsletter.
---
Trivia
Test your knowledge of Italy.
---
Il Novellino
XCVI
Here it is told of Bito and Messer Frulli of San Giorgio near Florence
Bito was a Florentine and a fine courtier, and dwelt at San Giorgio beyond the city. There was also an old man called Ser Frulli, who had a farm over at San Giorgio which was very pleasant, so that he lived there almost the whole year with his family, and every morning he sent his servant to sell fruit and vegetables at the market by the bridge.
And he was so miserly and suspicious that he made up the bundles of the vegetables, and counted them over to the servant, and then counted over all that she brought back.
His especial warning to her was not to loiter in San Giorgio, because there were women thieves there.
One morning the servant passed with her basketful of cabbages. Bito, who had thought the thing out beforehand, had put on his finest fur coat. And sitting by the bench outside, he called the serving-maid who went over to him unthinkingly, and many women had called her even before this, but she had not wished to go to them.
Good woman, he said; how do you sell these cabbages? Two for a danaio1. Surely that is cheap. But I tell you, said Bito, there are only myself and my servant in the house, for all my family are in the town; and two bunches are too much. Moreover, I like them fresh.
At this time, there were in use in Florence the medaglie, two of which were worth a danaio. Bito said: you pass by every morning; give me a bunch now and give me a danaio, and take this medaglia, and to-morrow morning when you return, you can give me the other bunch. It seemed to the woman that what he said was right, and so she did as he asked.2 Then she went off to sell the rest of her vegetables at the price which her master had fixed. She returned home and gave Messer Frulli the money. He, counting it over several times, found it a danaio short. And he told the servant. She replied: it cannot be so.
Then the master, getting angry with her, asked her if she had not dallied at San Giorgio. She sought to deny the fact, but he plied her so with questions, that she admitted: yes, I stopped for a fine gentleman, who paid me properly. And I must tell you that I have still to give him a bunch of cabbages.3 Messer Frulli replied: so you are now a danaio out.
He thought over the matter, and perceived the trick, and spoke very roughly to the servant, and asked where the man lived exactly.
And she told him.
He perceived then it was Bito, who had already played some tricks on him.
Burning with rage, he got up early next morning, and put a rusty sword under his coat, and came to the head of the bridge, and there found Bito sitting in company of many excellent folk. He drew out the sword, and would have wounded his man, if some one had not held him by the arm. The people were amazed, wondering what was the matter, and Bito was mightily afraid. But then remembering what had happened, he began to smile.
The folk who were standing around Messer Frulli asked him what it was all about. He told them breathlessly as best he could. Bito ordered the people to stand back (for he said), I want to come to an explanation with you. Let us have no more words about it. Give me back my danaio and keep your medaglia. And keep the cabbage with God's curse on it. Messer Frulli said: it pleases me well so. And if you had said this before, all this would not have happened.
And not perceiving the trick, he gave him a danaio and took a medaglia, and went away content.
There was great laughter thereat.
1 A small piece of money. Two medaglie, which was a coin of mixed silver and copper, were worth a danaio.
2 lit. "and so did".
3 The text of this novella is corrupt. There are several slightly different readings.
---
---
---
Storer, Edward, trans. Il Novellino: The Hundred Old Tales. London: G. Routledge & Sons Ltd.; New York: E. P. Dutton & Co., [1925]. 201-205
---
| | |
| --- | --- |
| | |
| | |
Follow Us
Featured Item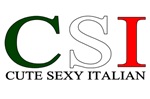 Shirts & Novelties
---
Partner Links Shops/Stores Italiansrus Gear
Proudly display the colors of Italy with these great products.

FORZIERI.com

The world largest online retailer for Premium Italian Fashions.
---
Travel Tour Italy
Customize your trip to Italy.