---
Resources
Art, Cuisine, Famous Italians, Festivals, Folklore, Genealogy, Holidays, Hotels, Photos, Real Estate, Sports, Travel and More
---
Guides
---
Surname Collection
Add your name to the collection.
---
Recipes
Authentic Italian recipes for you to enjoy.
---
Photo Galleries
Enjoy photos of Italy, wine making & more.
---
Proverbi
Proverbs in Italian & English.
---
Our Paesani
Weekly column dedicated to today's Italy.
by Francesca Di Meglio
---
Italian Memories
Articles on growing up Italian.
by Cookie Curci
---
Una Mamma Italiana
Articles for Italian mammas.
by Tiffany Longo
---
Learn Italian
English-Italian guides
Spanish-Italian guides.
---
Molto Italiano
Sign up for our FREE newsletter.
---
Trivia
Test your knowledge of Italy.
---
Il Novellino
XCIV
Here it is told of the fox and the mule
The fox going through a wood, happened upon a mule, and it had never seen a mule before.
The fox was greatly afraid, and fled and fleeing happened upon a wolf. The fox said she had discovered a very strange beast1, and did not know its name. The wolf said: let us go and see it. And they came to it. To the wolf it appeared very strange. The fox asked it its name. The mule replied: to tell the truth I cannot remember very well, but if you can read, you will find it written on my back right hoof. The fox replied: never mind, I cannot read, much as I should like to. The wolf then took up: leave it to me, for I can read very well indeed. The mule then showed his right hoof, the cleaving whereof seemed like letters. The wolf said: I cannot see them very well. The mule answered: corne a little closer, for the letters are very small. The wolf came nearer and looked closely. The mule then gave him a kick which killed him.
The fox went off saying: not everyone who can read is wise2.
1 lit. "a very new beast."
2 The novella appears elsewhere, as in the Proverbi of Cinto de' Fabrizi.
---
---
---
Storer, Edward, trans. Il Novellino: The Hundred Old Tales. London: G. Routledge & Sons Ltd.; New York: E. P. Dutton & Co., [1925]. 199-200
---
| | |
| --- | --- |
| | |
| | |
Follow Us
Featured Item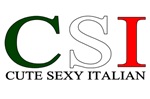 Shirts & Novelties
---
Partner Links Shops/Stores Italiansrus Gear
Proudly display the colors of Italy with these great products.

FORZIERI.com

The world largest online retailer for Premium Italian Fashions.
---
Travel Tour Italy
Customize your trip to Italy.