---
Resources
Art, Cuisine, Famous Italians, Festivals, Folklore, Genealogy, Holidays, Hotels, Photos, Real Estate, Sports, Travel and More
---
Guides
---
Surname Collection
Add your name to the collection.
---
Recipes
Authentic Italian recipes for you to enjoy.
---
Photo Galleries
Enjoy photos of Italy, wine making & more.
---
Proverbi
Proverbs in Italian & English.
---
Our Paesani
Weekly column dedicated to today's Italy.
by Francesca Di Meglio
---
Italian Memories
Articles on growing up Italian.
by Cookie Curci
---
Una Mamma Italiana
Articles for Italian mammas.
by Tiffany Longo
---
Learn Italian
English-Italian guides
Spanish-Italian guides.
---
Molto Italiano
Sign up for our FREE newsletter.
---
Trivia
Test your knowledge of Italy.
---
Il Novellino
XCI
How a certain man confessed to a friar
A certain man confessed to a friar, and told him that being once at the plundering of a house it was my intention1 to find in a certain drawer a hundred gold florins. But I found the drawer empty; therefore I believe that I did not sin.
The friar replied, certainly you did sin just the same as if you had found the florins. The man showed himself much troubled and said: for the love of God give me the absolution2. The friar replied: I cannot absolve you unless you make restitution. And the man answered, that I will do with pleasure, but I do not know to whom to make it. The friar answered: make it to me, and I will dispose of it in the name of God. The man promised to do this, and went away, and so familiar3 had he become with the friar that he returned on the morrow.
Talking with the friar, he said that some one had sent him a fine sturgeon, and that he would send it to him for dinner. For this the friar rendered him many thanks.
The man went away, and sent the friar nothing at all, but he returned to see him a day after with cheerful mien. The friar said: why have you kept me waiting, and not sent me the sturgeon?4 The other replied: did you expect to have it? Yes, certainly, said the friar. And you haven't had it? No. Well, then, it is just the same as if you had had it.
1 This brusque change into the direct narration is characteristic of the Novellino. I have followed the original here, and elsewhere, where it has been possible as tending to presenve the quality of the quaint original.
2 consigliatemi, a rather unusual form
3 The meaning may also be: he was so content.
4 "and not sent me the sturgeon" is missing in some texts. Biagi gives the version as printed here.
---
---
---
Storer, Edward, trans. Il Novellino: The Hundred Old Tales. London: G. Routledge & Sons Ltd.; New York: E. P. Dutton & Co., [1925]. 197-198
---
| | |
| --- | --- |
| | |
| | |
Follow Us
Featured Item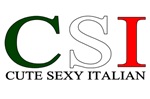 Shirts & Novelties
---
Partner Links Shops/Stores Italiansrus Gear
Proudly display the colors of Italy with these great products.

FORZIERI.com

The world largest online retailer for Premium Italian Fashions.
---
Travel Tour Italy
Customize your trip to Italy.