---
Resources
Art, Cuisine, Famous Italians, Festivals, Folklore, Genealogy, Holidays, Hotels, Photos, Real Estate, Sports, Travel and More
---
Guides
---
Surname Collection
Add your name to the collection.
---
Recipes
Authentic Italian recipes for you to enjoy.
---
Photo Galleries
Enjoy photos of Italy, wine making & more.
---
Proverbi
Proverbs in Italian & English.
---
Our Paesani
Weekly column dedicated to today's Italy.
by Francesca Di Meglio
---
Italian Memories
Articles on growing up Italian.
by Cookie Curci
---
Una Mamma Italiana
Articles for Italian mammas.
by Tiffany Longo
---
Learn Italian
English-Italian guides
Spanish-Italian guides.
---
Molto Italiano
Sign up for our FREE newsletter.
---
Trivia
Test your knowledge of Italy.
---
Il Novellino
IX
Here it is treated of an argument and a judgment that took place in Alexandria
In Alexandria, which is in the parts of Roumania–for there are twelve Alexandrias which Alexander founded in the March before he died1–in this Alexandria there are streets where the Saracens live, who make foods for sale, and the people seek out the street where the finest and most delicate foodstuffs arc to be found, just as among us one goes in search of cloths.
On a certain Monday, a Saracen cook whose name was Fabrae was standing by his kitchen door, when a poor Saracen entered the kitchen with a loaf in his hand. Money to purchase viands he had none, so he held his loaf over the pot, and let the savoury steam soak into it, and ate it.
The Saracen Fabrae, who was doing a poor trade that morning, was annoyed at the action, and seized the poor Saracen, and said to him: pay me for what you have taken of mine.
The poor man answered : I have taken nothing from your kitchen save steam.2 Pay me for what you have taken of mine, Fabrae continued to exclaim.
The dispute over this new and difficult question which had never arisen before, continued to such an extent that news of it reached the Sultan.
Owing to the great novelty of the argument, the Sultan called together a number of wise men. He laid the question before them.
The Saracen wise men began to dispute, and there were those who held that the steam did not belong to the cook, for which they adduced many good reasons. Steam cannot be appropriated, for it dissolves in the air, and has no useful substance or property. Therefore the poor man ought not to pay. Others argued that the steam was still part of the viand cooking, in fact that it belonged to it and emanated from its property, that a man sells the products of his trade, and that it is the custom for him who takes thereof to pay.
Many were the opinions given, and finally came the judgment: since this man sells his foodstuffs and you and others buy them, you must pay his viands according to their value. If for the food he sells and of which he gives the useful properties he is accustomed to take useful money, then since he has sold steam which is the vaporous part of his cooking, you, sir, must ring a piece of money, and it shall be understood that payment is satisfied by the sound that comes therefrom.
And the Sultan ordered that this judgment be observed.3
1 Apart from Alexandria in Egypt, there were of course A. Troas on the sea-coast near Troy and Issum, seaport on the Syrian coast. Many of the cities so-called soon lost their names.
2 lit. : smoke.
3 Thc story appears in slightly different forms in many languages. See Lelli, Favole; Pappanti, Passano ed i novellieri in prosa.
---
---
---
Storer, Edward, trans. Il Novellino: The Hundred Old Tales. London: G. Routledge & Sons Ltd.; New York: E. P. Dutton & Co., [1925]. 58-61
---
| | |
| --- | --- |
| | |
| | |
Follow Us
Featured Item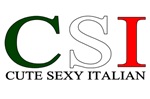 Shirts & Novelties
---
Partner Links Shops/Stores Italiansrus Gear
Proudly display the colors of Italy with these great products.

FORZIERI.com

The world largest online retailer for Premium Italian Fashions.
---
Travel Tour Italy
Customize your trip to Italy.