---
Resources
Art, Cuisine, Famous Italians, Festivals, Folklore, Genealogy, Holidays, Hotels, Photos, Real Estate, Sports, Travel and More
---
Guides
---
Surname Collection
Add your name to the collection.
---
Recipes
Authentic Italian recipes for you to enjoy.
---
Photo Galleries
Enjoy photos of Italy, wine making & more.
---
Proverbi
Proverbs in Italian & English.
---
Our Paesani
Weekly column dedicated to today's Italy.
by Francesca Di Meglio
---
Italian Memories
Articles on growing up Italian.
by Cookie Curci
---
Una Mamma Italiana
Articles for Italian mammas.
by Tiffany Longo
---
Learn Italian
English-Italian guides
Spanish-Italian guides.
---
Molto Italiano
Sign up for our FREE newsletter.
---
Trivia
Test your knowledge of Italy.
---
Il Novellino
LXXXIV
How Messer Azzolino Romano arranged a great charity
Messer Azzolino Romano once announced a great charity in his territory, and invited the people there and elsewhere to attend.
And so all the poor men and women were summoned to his meadows on a certain day, that each should be given a new habit and plenty to eat. The news spread abroad. Folk came from all parts.
When the day of the assembly arrived, the seneschals1 were ready with the clothes and the food, and each person was made to undress and cast off his old shoes, when new clothes were given and food handed out.
The poor people wanted their old clothes back, but it was of no avail, for they were all piled up in a heap and fire was laid thereto.
Then so much gold and silver were given as compensated them, and they were told to go home in the name of God.
It was in his2 time that a certain peasant charged a neighbour with having stolen his cherries. When the accused appeared, he said: send and see if that be true, for the cherry tree is covered with fruit. Then Messer Azzolino had proof that this was so, and condemned the accuser to pay a sum of money, telling the other to look after his cherries rather than rely on his lord's justice.
And the man decided to do this.
For fear of his tyranny, a woman brought him a sack of walnuts of splendid quality. And dressed up as well as she could contrive, she reached the spot when he3 was with his knights and said: Sire, may God give you long life.
And he was suspicious and asked: why do you say so? She replied: because if it is so, we shall have a long rest. And Azzolino laughed and ordered that she be given and put on a fine skirt which came to her knees, and he made her hold it up and had all the nuts scattered on the floor, and then he made the woman pick them up again one by one and place them in the sack, and then he rewarded her handsomely.
In Lombardy and the Marches, the pans are called pots4. Azzolino's retainers had, out of mischief, taken a potter one day to bring him to judgment, and Messer Azzolino was in the room. He said: who is this man? Some one answered: Sire, he is a potter. Go and hang him then. But, sire, he is a potter. Therefore I say go and hang him. Sire, we are only saying that he is a potter. Well, I say again that you take him and hang him.
Then the judge perceived the origin of the misunderstanding. And he explained it, but it was of no avail for Azzolino had said it three times, and the man had to be hung.
It would take too long to tell how feared he was, and it is within the knowledge of many.
It is recorded how one day being with the Emperor on horseback with all their followers, the two of them made a challenge which had the finer sword. The Emperor drew his sword from its sheath, and it was magnificently ornamented with gold and precious stones.
Then said Messer Azzolino; it is very fine, but mine is finer by far.
And he drew it forth.
Then six hundred knights who were with him all drew forth theirs. When the Emperor saw the swords, he said that Azzolino's was the finer.
Azzolino was taken in battle at a place which is called Casciano5, and he banged his head so hard against the pole supporting the tent where he was imprisoned and bound, that he killed himself.
1 Superior servants, major-domos.
2 Azzolino's of course.
3 Throughout this novella Azzolino is nearly always referred to as "he".
4 "si chiamano le pentole, olle." The point of this novella depends on the play of the words untranslatable in English. They told Azzolino that the man was "un olaro" a potter, while the tyrant understood them to say uno laro, that is un ladro, or a thief.
5 Cassano on the Adda.
---
---
---
Storer, Edward, trans. Il Novellino: The Hundred Old Tales. London: G. Routledge & Sons Ltd.; New York: E. P. Dutton & Co., [1925]. 188-192
---
| | |
| --- | --- |
| | |
| | |
Follow Us
Featured Item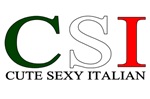 Shirts & Novelties
---
Partner Links Shops/Stores Italiansrus Gear
Proudly display the colors of Italy with these great products.

FORZIERI.com

The world largest online retailer for Premium Italian Fashions.
---
Travel Tour Italy
Customize your trip to Italy.