---
Resources
Art, Cuisine, Famous Italians, Festivals, Folklore, Genealogy, Holidays, Hotels, Photos, Real Estate, Sports, Travel and More
---
Guides
---
Surname Collection
Add your name to the collection.
---
Recipes
Authentic Italian recipes for you to enjoy.
---
Photo Galleries
Enjoy photos of Italy, wine making & more.
---
Proverbi
Proverbs in Italian & English.
---
Our Paesani
Weekly column dedicated to today's Italy.
by Francesca Di Meglio
---
Italian Memories
Articles on growing up Italian.
by Cookie Curci
---
Una Mamma Italiana
Articles for Italian mammas.
by Tiffany Longo
---
Learn Italian
English-Italian guides
Spanish-Italian guides.
---
Molto Italiano
Sign up for our FREE newsletter.
---
Trivia
Test your knowledge of Italy.
---
Il Novellino
LXXXIII
How Christ going one day with his disciples in a deserted place, they saw great treasure
Christ one day going with his disciples through a deserted place, the disciples who followed Him saw some great pieces of fine gold shining there.
So they, calling Christ, and marvelling that He had not stayed to observe, said to Him: Lord, let us take this gold which will serve us for many needs.
And Christ turned to them and reproved them and said: you want those things which take from our kingdom the greatest number of souls. And that this is true, on our return you will see the proof.
And He passed on.
A little while after, two dear companions found the gold and were greatly rejoiced thereat, and one went to the nearest village to get a mule, while the other remained on guard.
Now listen to the guilty deeds that followed the guilty thoughts sent them by the devil1. The one with the mule returned and said to his companion: I have eaten in the village, and you must be hungry. Eat these two fine breads and then we will load up. The other replied: I have no great will to eat now. Therefore, let us load up first.
And they began to load the mule.
And when they had almost finished loading, the one who had gone for the mule bent down to tie the bundle fast, and the other ran behind him treacherously with a pointed knife, and killed him. Then he gave one of the breads to the mule, and ate the other himself. The bread was poisoned. The man fell down dead, and so did the mule, before they could leave the spot, and the gold remained untouched as it had been before2.
Our Lord then passed with His disciples the same day, and showed them the example He had spoken of3.
1 lit. the enemy ('l nemico).
2 lit. free, unpossessed, libero.
3 See Rappresentazione di S. Antonio, Le Monnier (1872), II, 33.
---
---
---
Storer, Edward, trans. Il Novellino: The Hundred Old Tales. London: G. Routledge & Sons Ltd.; New York: E. P. Dutton & Co., [1925]. 186-188
---
| | |
| --- | --- |
| | |
| | |
Follow Us
Featured Item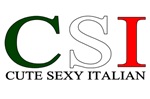 Shirts & Novelties
---
Partner Links Shops/Stores Italiansrus Gear
Proudly display the colors of Italy with these great products.

FORZIERI.com

The world largest online retailer for Premium Italian Fashions.
---
Travel Tour Italy
Customize your trip to Italy.