---
Resources
Art, Cuisine, Famous Italians, Festivals, Folklore, Genealogy, Holidays, Hotels, Photos, Real Estate, Sports, Travel and More
---
Guides
---
Surname Collection
Add your name to the collection.
---
Recipes
Authentic Italian recipes for you to enjoy.
---
Photo Galleries
Enjoy photos of Italy, wine making & more.
---
Proverbi
Proverbs in Italian & English.
---
Our Paesani
Weekly column dedicated to today's Italy.
by Francesca Di Meglio
---
Italian Memories
Articles on growing up Italian.
by Cookie Curci
---
Una Mamma Italiana
Articles for Italian mammas.
by Tiffany Longo
---
Learn Italian
English-Italian guides
Spanish-Italian guides.
---
Molto Italiano
Sign up for our FREE newsletter.
---
Trivia
Test your knowledge of Italy.
---
Il Novellino
LXXXII
Here it is told how the Lady of Shalott died for love of Lancelot of the Lake
The daughter of a great vassal1 loved Lancelot of the Lake beyond measure, but he did not wish to give her his love, since he had given it to Queen Guinevere. So much did the girl love Lancelot that she came to death thereby, and she commanded that when her soul had left her body, a rich boat should be prepared to be covered with a vermilion cloth, and a fine bed laid therein with rich and noble coverings of silk and adorned with precious stones.
And her body was to be laid in this bed dressed in her finest garments with a lovely crown on her head, rich in gold and ornamented with precious stones, and she was to have a rare girdle and a satchel too.
And in the satchel there was to be a letter of the following tenour.
But first of all let us tell of what happened before the letter. The damsel died of the sickness of love, and it was done with her as she wished2 about the vessel with no sails or oars and no one aboard.
The sailless vessel was put into the sea with the woman, and the sea took it to Camelot, and drifted it to the shore.
A cry passed through the court. The knights and barons came down from the palaces, and noble King Arthur came too, and marvelled mightily that the boat was there with no guide.
The king stepped on to it and saw the damsel and the furnishings. He had the satchel opened and the letter was found. He ordered that it should be read, and it ran: to all the knights of the Round Table this lady of Shallot sends greetings as to the gentlest folk in the world. And if you would know why I have come to this end, it is for the finest knight in the world and the most villainous, that is my lord Sir Lancelot of the Lake, whom I did not know how to beg that he should have pity on me. So I died there for loving well as you can see.
1 Vassal to a king, a lord, or noble.
2 The versions differ here. Biagi gives the lines about the sailless vessel with oars and no one aboard.
---
---
---
Storer, Edward, trans. Il Novellino: The Hundred Old Tales. London: G. Routledge & Sons Ltd.; New York: E. P. Dutton & Co., [1925]. 184-186
---
| | |
| --- | --- |
| | |
| | |
Follow Us
Featured Item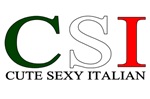 Shirts & Novelties
---
Partner Links Shops/Stores Italiansrus Gear
Proudly display the colors of Italy with these great products.

FORZIERI.com

The world largest online retailer for Premium Italian Fashions.
---
Travel Tour Italy
Customize your trip to Italy.