---
Resources
Art, Cuisine, Famous Italians, Festivals, Folklore, Genealogy, Holidays, Hotels, Photos, Real Estate, Sports, Travel and More
---
Guides
---
Surname Collection
Add your name to the collection.
---
Recipes
Authentic Italian recipes for you to enjoy.
---
Photo Galleries
Enjoy photos of Italy, wine making & more.
---
Proverbi
Proverbs in Italian & English.
---
Our Paesani
Weekly column dedicated to today's Italy.
by Francesca Di Meglio
---
Italian Memories
Articles on growing up Italian.
by Cookie Curci
---
Una Mamma Italiana
Articles for Italian mammas.
by Tiffany Longo
---
Learn Italian
English-Italian guides
Spanish-Italian guides.
---
Molto Italiano
Sign up for our FREE newsletter.
---
Trivia
Test your knowledge of Italy.
---
Il Novellino
LXXX
The Pilgrim and the Ugly Woman.
A pilgrim who had committed a crime was arrested; and it was made known that he should pay a thousand franks or else lose the use of his eyes.
Since the pilgrim was unable to pay, he was bound and blindfolded, as is the custom of that place.
When he was led through the town to the place of punishment, a woman, who had great possessions, although she was extremely ugly, saw this pilgrim, who was young and handsome, and asked why he was led to the place of punishment. She was told that it was because he could not pay a thousand franks.
The woman sent word to him that if he would take her to wife, she would pay the thousand franks. The pilgrim consented; he was brought before the woman.
When the pilgrim saw that the woman was so ugly, he said to those who had taken off his bandage that he might see the woman: quickly, quickly, blindfold me again, for it is better never to see, than always to see something unpleasant.
The lord of that country learned what the pilgrim had said: therefore he sent for him, and condoned his punishment, and set him free1.
1 I have taken this tale from the Magliabechiana MS, as given in Papanti, No. 31.
---
---
---
Storer, Edward, trans. Il Novellino: The Hundred Old Tales. London: G. Routledge & Sons Ltd.; New York: E. P. Dutton & Co., [1925]. 181-182
---
| | |
| --- | --- |
| | |
| | |
Follow Us
Featured Item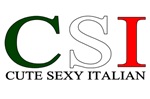 Shirts & Novelties
---
Partner Links Shops/Stores Italiansrus Gear
Proudly display the colors of Italy with these great products.

FORZIERI.com

The world largest online retailer for Premium Italian Fashions.
---
Travel Tour Italy
Customize your trip to Italy.