---
Resources
Art, Cuisine, Famous Italians, Festivals, Folklore, Genealogy, Holidays, Hotels, Photos, Real Estate, Sports, Travel and More
---
Guides
---
Surname Collection
Add your name to the collection.
---
Recipes
Authentic Italian recipes for you to enjoy.
---
Photo Galleries
Enjoy photos of Italy, wine making & more.
---
Proverbi
Proverbs in Italian & English.
---
Our Paesani
Weekly column dedicated to today's Italy.
by Francesca Di Meglio
---
Italian Memories
Articles on growing up Italian.
by Cookie Curci
---
Una Mamma Italiana
Articles for Italian mammas.
by Tiffany Longo
---
Learn Italian
English-Italian guides
Spanish-Italian guides.
---
Molto Italiano
Sign up for our FREE newsletter.
---
Trivia
Test your knowledge of Italy.
---
Il Novellino
VIII
Of the gift of a king's son to a king of Syria who had been driven from his throne
A lord of Greece who possessed a mighty kingdom and whose name was Aulix had a young son whom he had taught the seven liberal arts.1 And he instructed him in the moral life, that is the life of fine manners.
One day this king took much gold and gave it to his son and said : spend it as you like. And he told his barons not to instruct him how to spend it, but only to observe his behaviour and his habits.
The barons, following the young man, were with him one day at the palace windows.
The youth was pensive. He saw passing along the road folk who from their dress and person seemed very noble. The road ran at the foot of the palace.
The young man ordered that all these folk should be brought before him. His will was obeyed in this, and all the passers-by came before him.
And one of them who was bolder in heart and more cheerful in look than the others, came forward and asked : Sire, what do you want of me ? I would know whence you come, and what is your state.
And the man replied: Sire, I come from Italy, and a rich merchant I am, and my wealth which I have gained I did not have as patrimony, but I earned it with my labour.
The king's son asked the next man whose features were noble and who stood with timid face further off than the other, and did not dare advance so boldly.
And this man said : what do you ask of me, Sire ? The youth replied : I ask you whence you come, and what is your state.
The man answered : I am from Syria and am a king, and I have acted so that my subjects have driven me out of my kingdom.
Then the youth took all the gold and silver and gave it to him who had been driven out.
The news spread through the palace.
The barons and the knights met in conclave, and at the court nothing else was spoken of but this gift of the gold.
All was related to the father, questions and answers, word for word. The king began to speak to his son, many barons being present, and said : how did you come to distribute the money in this manner ? What idea was it that moved you ? What reason can you offer us for not giving to him who had enriched himself through his ability, while to him who had lost through his own fault you gave all ? The wise young man made answer : Sire, I gave nothing to him who taught me nothing, nor indeed did I make a gift to anyone, for what I gave was a recompense, not a present. The merchant taught me nothing, and nothing was due to him. But he who was of my own state, son of a king who wore a king's crown, and out of his folly did so act that his subjects drove him away, taught me so much that my subjects will not drive me out. Therefore I made a small recompense to him who taught me so much.
On hearing the judgement of the youth, the father and his barons praised his great wisdom, saying that his youth gave good promise fir the years when he should be ripe to deal with matters of state.
Tidings of the happenings were spread far and wide among lords and barons, and the wise men made great disputations about it.
1 These were : grammar, dialectic, rhetoric, arithmetic, music, geometry, and algebra.
---
---
---
Storer, Edward, trans. Il Novellino: The Hundred Old Tales. London: G. Routledge & Sons Ltd.; New York: E. P. Dutton & Co., [1925]. 55-58
---
| | |
| --- | --- |
| | |
| | |
Follow Us
Featured Item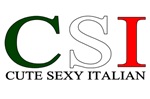 Shirts & Novelties
---
Partner Links Shops/Stores Italiansrus Gear
Proudly display the colors of Italy with these great products.

FORZIERI.com

The world largest online retailer for Premium Italian Fashions.
---
Travel Tour Italy
Customize your trip to Italy.