---
Resources
Art, Cuisine, Famous Italians, Festivals, Folklore, Genealogy, Holidays, Hotels, Photos, Real Estate, Sports, Travel and More
---
Guides
---
Surname Collection
Add your name to the collection.
---
Recipes
Authentic Italian recipes for you to enjoy.
---
Photo Galleries
Enjoy photos of Italy, wine making & more.
---
Proverbi
Proverbs in Italian & English.
---
Our Paesani
Weekly column dedicated to today's Italy.
by Francesca Di Meglio
---
Italian Memories
Articles on growing up Italian.
by Cookie Curci
---
Una Mamma Italiana
Articles for Italian mammas.
by Tiffany Longo
---
Learn Italian
English-Italian guides
Spanish-Italian guides.
---
Molto Italiano
Sign up for our FREE newsletter.
---
Trivia
Test your knowledge of Italy.
---
Il Novellino
LXXIX
Here it is told of a Court player who adored a lord
There was a lord who had a player at his court, and this player adored his lord as though he were his god.
Another player of the court, seeing this, spoke ill of him and said: who is this man whom you call your god? He is nobody. And the first being bold for the favour he enjoyed of his lord, beat the other fellow unmercifully. This man, being unable to defend himself, went to complain to the lord and related the whole event.
The lord made a jest of the matter.
The beaten jongleur went away, and hid himself among people of mean rank, for he feared to remain among better folk for the shame that had come to him.
Now it happened that the lord heard of this and was displeased, so that he decided to dismiss his player and send him away.
It was the custom in this court that when a man received a present from his lord he knew himself dismissed from service. The lord took a great deal of money and placed it in a tart, and when his jongleur came before him, he gave it him, saying to himself: since I am constrained to discharge him, I want him to be a wealthy man.
When the jongleur saw the tart, he became distressed. He thought and said to himself: I have eaten; I will keep it and give it to my landlady.
Taking it with him to the inn, he found there the man whom he had beaten, and he was wretched and sad. The player feeling pity for him, went towards him, and gave him the tart. And he took it, and went off with it, and was well repaid for the punishment he had taken from the other.
Then the jongleur going back to his lord to take farewell of him, the lord said: what, you are still here? Did you not have the tart? Sir, I had it. What did you do with it? Sir, I had eaten then. I gave it to a poor court player, who spoke ill of me because I called you my god.
Then the lord said: go and bad fortune go with you, for certainly his god is a better one than yours.
And he told him all about the tart.
The jongleur felt himself lost, and did not know what to do. He separated from his lord and had nothing further from him.
And he went out to seek for the man to whom he had given the tart.
Nor was it true that he ever found him.
---
---
---
Storer, Edward, trans. Il Novellino: The Hundred Old Tales. London: G. Routledge & Sons Ltd.; New York: E. P. Dutton & Co., [1925]. 178-180
---
| | |
| --- | --- |
| | |
| | |
Follow Us
Featured Item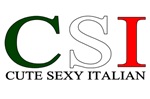 Shirts & Novelties
---
Partner Links Shops/Stores Italiansrus Gear
Proudly display the colors of Italy with these great products.

FORZIERI.com

The world largest online retailer for Premium Italian Fashions.
---
Travel Tour Italy
Customize your trip to Italy.