---
Resources
Art, Cuisine, Famous Italians, Festivals, Folklore, Genealogy, Holidays, Hotels, Photos, Real Estate, Sports, Travel and More
---
Guides
---
Surname Collection
Add your name to the collection.
---
Recipes
Authentic Italian recipes for you to enjoy.
---
Photo Galleries
Enjoy photos of Italy, wine making & more.
---
Proverbi
Proverbs in Italian & English.
---
Our Paesani
Weekly column dedicated to today's Italy.
by Francesca Di Meglio
---
Italian Memories
Articles on growing up Italian.
by Cookie Curci
---
Una Mamma Italiana
Articles for Italian mammas.
by Tiffany Longo
---
Learn Italian
English-Italian guides
Spanish-Italian guides.
---
Molto Italiano
Sign up for our FREE newsletter.
---
Trivia
Test your knowledge of Italy.
---
Il Novellino
LXXVII
Here is told of Messer Rinieri, a knight of the Court
Messer Rinieri of Monte Nero1, a knight of the court, went to Sardinia, and dwelt with the lord of Alborea, and fell in love with a Sardinian lady who was very beautiful. He lay with her. The husband found them out. He did them no harm, but went to his lord, and made great complaint.
The Lord loved this Sardinian. He sent for Messer Rinieri; he spoke to him words of severe menace. And Messer Rinieri begged his pardon, and told him to send for the woman, and to ask her, whether what she had done was for aught but for love. The lord did not like to be made fun of. He ordered him to leave the country under penalty of his life. And not having yet been rewarded for his services, Messer Rinieri said: May it please you to send to Pisa to your seneschal to provide for me. That will I do right gladly. He wrote him a letter and gave it to him.
Now when he had reached Pisa, and went to the aforesaid seneschal, and sat at table with many noble persons, he narrated what had happened, and then gave this letter to the seneschal. This man read it, and found that he was to give him a pair of linen hose without feet, and nothing else. And he wished to receive them before all the knights present.
When he had them, there was great merriment and much laughter. He was not at all angered by this, for he was an exceedingly gentle knight.
Now it befell that he entered into a boat with a horse and a servant of his, and returned to Sardinia.
One day when his lord was riding out with other knights, he met Messer Rinieri who was tall and had long legs, and was sitting on a worn jade, and had these linen hose on his legs. The lord recognised him, and with angry mien sent for him, to come before him, and said: What does this mean, Messer Rinieri, why have you not left Sardinia? Certes, said Messer Rinieri. I did but return for the feet of the hose. He stretched out his legs, and showed his feet.
Then the lord was amused, and laughed, and forgave him, and presented him with the robe that he wore, and said: Messer Rinieri, you have been wiser than I, and know more than I taught you. And he rejoined: Messer, that redounds to your honour.
1 Monte Nero is a little hill-town near Leghorn, with a famous sanctuary of the Madonna. Rinieri, or rather Ranieri, is the name of the patron-saint of Pisa.
---
---
---
Storer, Edward, trans. Il Novellino: The Hundred Old Tales. London: G. Routledge & Sons Ltd.; New York: E. P. Dutton & Co., [1925]. 175-177
---
| | |
| --- | --- |
| | |
| | |
Follow Us
Featured Item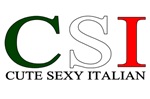 Shirts & Novelties
---
Partner Links Shops/Stores Italiansrus Gear
Proudly display the colors of Italy with these great products.

FORZIERI.com

The world largest online retailer for Premium Italian Fashions.
---
Travel Tour Italy
Customize your trip to Italy.