---
Resources
Art, Cuisine, Famous Italians, Festivals, Folklore, Genealogy, Holidays, Hotels, Photos, Real Estate, Sports, Travel and More
---
Guides
---
Surname Collection
Add your name to the collection.
---
Recipes
Authentic Italian recipes for you to enjoy.
---
Photo Galleries
Enjoy photos of Italy, wine making & more.
---
Proverbi
Proverbs in Italian & English.
---
Our Paesani
Weekly column dedicated to today's Italy.
by Francesca Di Meglio
---
Italian Memories
Articles on growing up Italian.
by Cookie Curci
---
Una Mamma Italiana
Articles for Italian mammas.
by Tiffany Longo
---
Learn Italian
English-Italian guides
Spanish-Italian guides.
---
Molto Italiano
Sign up for our FREE newsletter.
---
Trivia
Test your knowledge of Italy.
---
Il Novellino
LXXIII
How the Sultan being in need of money, sought to find occasion to proceed against a Jew
The Sultan, being in need of money, was advised to proceed against a rich Jew, who lived in his country, and to try to take away his substance from him.
The Sultan sent for this Jew and asked him what was the best religion, thinking he will say surely the Jewish faith, when I will tell him that he sins against mine. And if he says the Saracen, I will ask him why he is a Jew.
The Jew, hearing the question, replied: Sire, there was a father who had three sons, and he had a ring with a precious stone, one of the finest in the world. Each of the sons begged this father that he should leave him this ring at his death. The father, seeing that each of them desired it, sent for a good jeweller and said to him: master, make me two rings just like this one, and set in each of them a stone resembling this one. The jeweller made the rings so that no one knew the real gem apart save the father. He sent for his sons one by one, and to each he gave a ring in secret, and each believed he had the true ring, and no one knew the truth save the father. And so I tell you of the faiths which are three. God above knows best of all, and his sons who are ourselves each of us thinks he has the true one.
Then the Sultan hearing the man get out of the difficulty in this manner, did not know how to entrap him, and let him go1.
1 The story derives from Jewish sources and appeared for what was probably the first time in the Scebet Jehuda. It is to be found in several other places in slightly different forms. See Gesta Romanorum, Avventuroso Ciciliano of Busone da Gubbio, etc.
---
---
---
Storer, Edward, trans. Il Novellino: The Hundred Old Tales. London: G. Routledge & Sons Ltd.; New York: E. P. Dutton & Co., [1925]. 168-169
---
| | |
| --- | --- |
| | |
| | |
Follow Us
Featured Item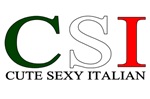 Shirts & Novelties
---
Partner Links Shops/Stores Italiansrus Gear
Proudly display the colors of Italy with these great products.

FORZIERI.com

The world largest online retailer for Premium Italian Fashions.
---
Travel Tour Italy
Customize your trip to Italy.