---
Resources
Art, Cuisine, Famous Italians, Festivals, Folklore, Genealogy, Holidays, Hotels, Photos, Real Estate, Sports, Travel and More
---
Guides
---
Surname Collection
Add your name to the collection.
---
Recipes
Authentic Italian recipes for you to enjoy.
---
Photo Galleries
Enjoy photos of Italy, wine making & more.
---
Proverbi
Proverbs in Italian & English.
---
Our Paesani
Weekly column dedicated to today's Italy.
by Francesca Di Meglio
---
Italian Memories
Articles on growing up Italian.
by Cookie Curci
---
Una Mamma Italiana
Articles for Italian mammas.
by Tiffany Longo
---
Learn Italian
English-Italian guides
Spanish-Italian guides.
---
Molto Italiano
Sign up for our FREE newsletter.
---
Trivia
Test your knowledge of Italy.
---
Il Novellino
LXXI
Here it is told how Seneca consoled a woman whose son had died
Seneca wishing to console a woman whose son had died, as we read in the Book of Consolation1, he said these words: If you were a woman like other women, I should not speak to you as I am going to speak. But for the fact that you, though woman, have the intellect of a man, I will speak to you so. There were two women in Rome, and the son of each of them died. One was one of the dearest lads in the world, and the other was most lovable, too. One woman let herself receive consolation, and was content to be consoled; the other woman hid herself in a corner of the house and refused every consolation, and gave herself to tears. Which of these two acted the more wisely? If you say she who was willing to be consoled, you say rightly. Therefore, why weep? If you tell me: I weep for my son, because his goodness did me honour, I tell you you are not mourning him, but rather your own loss, whence it is for yourself you are weeping, and it is a very ugly thing to weep over oneself. And if you will say to me: my heart is weeping because I loved him so much, it is not true, for you love him less now that he is dead, than when he was alive. And if your grief be for love, why did you not weep when he was alive, knowing that he had to die? Hence, do not excuse yourself: cease your tears. If your son is dead, it cannot be otherwise. Death is second nature, and therefore a thing meet and necessary for all.
And so he consoled her.
We read further of Seneca that being Nero's master, he beat him when he was young and his scholar, and when Nero was made emperor, he remembered the beatings received from Seneca, and he had him taken and condemned to death.
But he did him the favour of letting him choose what kind of death he would have.
And Seneca chose to have his veins opened in a hot bath.
And his wife wept and cried out: alas! my lord, what grief that you should die for no fault of yours.
And Seneca replied: it is better that I should die without fault than through some fault of mine. For then he who kills me wrongfully would be excused.
1 A book of Seneca's.
---
---
---
Storer, Edward, trans. Il Novellino: The Hundred Old Tales. London: G. Routledge & Sons Ltd.; New York: E. P. Dutton & Co., [1925]. 164-166
---
| | |
| --- | --- |
| | |
| | |
Follow Us
Featured Item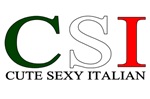 Shirts & Novelties
---
Partner Links Shops/Stores Italiansrus Gear
Proudly display the colors of Italy with these great products.

FORZIERI.com

The world largest online retailer for Premium Italian Fashions.
---
Travel Tour Italy
Customize your trip to Italy.