---
Resources
Art, Cuisine, Famous Italians, Festivals, Folklore, Genealogy, Holidays, Hotels, Photos, Real Estate, Sports, Travel and More
---
Guides
---
Surname Collection
Add your name to the collection.
---
Recipes
Authentic Italian recipes for you to enjoy.
---
Photo Galleries
Enjoy photos of Italy, wine making & more.
---
Proverbi
Proverbs in Italian & English.
---
Our Paesani
Weekly column dedicated to today's Italy.
by Francesca Di Meglio
---
Italian Memories
Articles on growing up Italian.
by Cookie Curci
---
Una Mamma Italiana
Articles for Italian mammas.
by Tiffany Longo
---
Learn Italian
English-Italian guides
Spanish-Italian guides.
---
Molto Italiano
Sign up for our FREE newsletter.
---
Trivia
Test your knowledge of Italy.
---
Il Novellino
LXX
Here it is told how Hercules went into the forest
Hercules was a very strong man beyond other men's strength, and he had a wife who caused him much trouble.
One day he went off suddenly and entered a great forest where he found bears and lions and very fierce wild beasts. He tore them apart, and killed them all with his mighty strength. No beast did he find strong enough to be able to protect itself from him.
And he remained a long time in this forest.
He returned to his wife and house with his garments all torn and wearing lion skins on his back. His wife came forward to meet him, making great festivity, and began to say: welcome, my lord, what news have you?
And Hercules replied: I come from the forest. I have found all the wild beasts more gentle than you, for I have subdued all those I have come across save you. Indeed it is you who have subdued me. You are therefore the strongest thing1 I have ever encountered, for you have conquered him who has conquered all the others.
1 The text is subject to various readings. Biagi has "thing" (cosa) while other versions give "woman" and "wild beast," femina and fiera.
---
---
---
Storer, Edward, trans. Il Novellino: The Hundred Old Tales. London: G. Routledge & Sons Ltd.; New York: E. P. Dutton & Co., [1925]. 163-164
---
| | |
| --- | --- |
| | |
| | |
Follow Us
Featured Item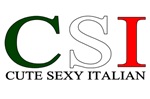 Shirts & Novelties
---
Partner Links Shops/Stores Italiansrus Gear
Proudly display the colors of Italy with these great products.

FORZIERI.com

The world largest online retailer for Premium Italian Fashions.
---
Travel Tour Italy
Customize your trip to Italy.