---
Resources
Art, Cuisine, Famous Italians, Festivals, Folklore, Genealogy, Holidays, Hotels, Photos, Real Estate, Sports, Travel and More
---
Guides
---
Surname Collection
Add your name to the collection.
---
Recipes
Authentic Italian recipes for you to enjoy.
---
Photo Galleries
Enjoy photos of Italy, wine making & more.
---
Proverbi
Proverbs in Italian & English.
---
Our Paesani
Weekly column dedicated to today's Italy.
by Francesca Di Meglio
---
Italian Memories
Articles on growing up Italian.
by Cookie Curci
---
Una Mamma Italiana
Articles for Italian mammas.
by Tiffany Longo
---
Learn Italian
English-Italian guides
Spanish-Italian guides.
---
Molto Italiano
Sign up for our FREE newsletter.
---
Trivia
Test your knowledge of Italy.
---
Il Novellino
VII
Here it is told how the angel spoke to Solomon, and said that the Lord God would take away the kingdom from his son for his sins.
We read of Solomon that he made another offence to God, for which he was condemned to the loss of his kingdom. The angel spoke to him and said: Solomon, on account of your sins, it is meet that you should lose your realm. But our Lord sends to tell you that for the good merits of your father, He will not take it away from you in your life, but for your wrong-doing He will take it away from your son. Whereby we see the father's merits enjoyed by the son, and a father's sins punished in his child.
Be it known that Solomon laboured studiously on this earth, and with his learning and talent had a great and noble reign.
And he took provision that foreign heirs should not succeed him, that is, heirs such as were outside his lineage.
So he took many wives and many concubines that he might have many heirs, but God who is the supreme dispenser willed it that by all his wives and concubines, who were many, he had but one son.
Then Solomon made provision so as to dispose and order his kingdom under this son of his, whose name was Roboam, that for certain he should reign after him.
So from his youth upwards he ordered his son's life with many precepts and schoolings. And more he did, so that a great treasure should be amassed and laid in a safe place.
And further he took urgent care that there was concord and peace with all the lords whose lands were near to his own, and his own vassals he held in peace and without contentions. And further he taught his son the courses of the stars and how to have mastery over demons.
And all these things he did that Roboam should reign after him.
When Solomon was dead, Roboam took counsel of wise old men, and asked their advice as to how he should manage his people.
The old men counselled him : call your people together and with sweet words say you love them as yourself, that they are as your crown, that if your father was harsh to them, you will be gentle and benign, and whereas he oppressed them, you will let them live in ease and content. If they were oppressed in the making of the temple, you will assist them.
Such was the advice the wise old men of the kingdom gave him.
Roboam went away, and called together a counsel of young men, and asked them similarly their advice. And these asked him: how did they from whom you first sought advice counsel you ? And he told them word for word.
Then the young men said : they deceive you, since kingdoms are not held by words but by prowess and courage. Whence, if you speak soft words to the people, it will seem to them you are afraid of them, and so they will cast you down, and will not take you for their lord nor obey you. Listen to our counsel who are all your servants, and a master may do with his servants as he will. Tell the people with vigour and courage that they are your servants, and that whosoever disobeys you, you will punish according to your harsh law. If Solomon oppressed them for the building of the temple, you too will oppress them if it shall please you. Thus the people will not hold you for a child, but all will fear you, and so you will keep your kingdom and your crown.
Foolish Roboam followed the young men's advice. He called together his people, and spoke harsh words to them. The people grew angry, and the chiefs became disturbed. They made secret pacts and leagues. Certain barons1 plotted together, so that in thirty-four days after the death of Solomon, his son lost ten of the twelve parts of his kingdom through the foolish counsel of the young men.2
1 The original calls them "barons," though the word sounds strange in a Biblical connection.
2 Kings III, chap, xi.--xii.
---
---
---
Storer, Edward, trans. Il Novellino: The Hundred Old Tales. London: G. Routledge & Sons Ltd.; New York: E. P. Dutton & Co., [1925]. 51-55
---
| | |
| --- | --- |
| | |
| | |
Follow Us
Featured Item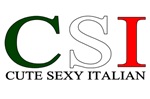 Shirts & Novelties
---
Partner Links Shops/Stores Italiansrus Gear
Proudly display the colors of Italy with these great products.

FORZIERI.com

The world largest online retailer for Premium Italian Fashions.
---
Travel Tour Italy
Customize your trip to Italy.