---
Resources
Art, Cuisine, Famous Italians, Festivals, Folklore, Genealogy, Holidays, Hotels, Photos, Real Estate, Sports, Travel and More
---
Guides
---
Surname Collection
Add your name to the collection.
---
Recipes
Authentic Italian recipes for you to enjoy.
---
Photo Galleries
Enjoy photos of Italy, wine making & more.
---
Proverbi
Proverbs in Italian & English.
---
Our Paesani
Weekly column dedicated to today's Italy.
by Francesca Di Meglio
---
Italian Memories
Articles on growing up Italian.
by Cookie Curci
---
Una Mamma Italiana
Articles for Italian mammas.
by Tiffany Longo
---
Learn Italian
English-Italian guides
Spanish-Italian guides.
---
Molto Italiano
Sign up for our FREE newsletter.
---
Trivia
Test your knowledge of Italy.
---
Il Novellino
LXVII
Here it is told of Papirius and how his father brought him to the council
Papirius was a Roman, a powerful man, wise and very fond of war. And the Romans wishing to defend themselves against Alexander, put their trust in the valour of this Papirius.
When Papirius was a child, his father took him with him to the council. One day the council ordered that its sittings should be kept secret. And his mother, who wanted to know what the Romans had been discussing, plied him with many questions.
Papirius perceiving the desire of his mother, concocted a splendid lie, and said thus: the Romans were discussing which was better: for the men to have two wives, or the women two husbands, so that the race may multiply to meet those who are rebellious against Rome. The council decided that it was better and more convenient that the men should have two wives.
The mother, who had promised the boy to keep the matter a secret, told the thing to another woman, who told it to yet another.
Thus it went from one to another until all Rome knew of it. The women came together and went to the senators, and made great complaint. And they feared still graver novelties. Hearing the complaints, they courteously dismissed the women, and commended Papirius for his wisdom.
And then the commune of Rome decided that no father should take his son with him to council1.
1 See Aulus Gelius, Macrobius, and Polibius.
---
---
---
Storer, Edward, trans. Il Novellino: The Hundred Old Tales. London: G. Routledge & Sons Ltd.; New York: E. P. Dutton & Co., [1925]. 159-160
---
| | |
| --- | --- |
| | |
| | |
Follow Us
Featured Item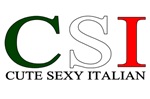 Shirts & Novelties
---
Partner Links Shops/Stores Italiansrus Gear
Proudly display the colors of Italy with these great products.

FORZIERI.com

The world largest online retailer for Premium Italian Fashions.
---
Travel Tour Italy
Customize your trip to Italy.