---
Resources
Art, Cuisine, Famous Italians, Festivals, Folklore, Genealogy, Holidays, Hotels, Photos, Real Estate, Sports, Travel and More
---
Guides
---
Surname Collection
Add your name to the collection.
---
Recipes
Authentic Italian recipes for you to enjoy.
---
Photo Galleries
Enjoy photos of Italy, wine making & more.
---
Proverbi
Proverbs in Italian & English.
---
Our Paesani
Weekly column dedicated to today's Italy.
by Francesca Di Meglio
---
Italian Memories
Articles on growing up Italian.
by Cookie Curci
---
Una Mamma Italiana
Articles for Italian mammas.
by Tiffany Longo
---
Learn Italian
English-Italian guides
Spanish-Italian guides.
---
Molto Italiano
Sign up for our FREE newsletter.
---
Trivia
Test your knowledge of Italy.
---
Il Novellino
LXV
Here it is told of Queen Iseult and Messer Tristan of Lyonesse
Messer Tristan of Cornwall loved Iseult the fair1, who was King Mark's wife, and between them they fashioned a love signal in this wise: that when Messer Tristan wished to speak to her, he went to a garden of the king where there stood a fountain, and he muddied the water of the rivulet made by the fountain: which rivulet passed by the palace where the lady Iseult lived.
So when she saw the water disturbed, she knew that Messer Tristan was at the fountain.
Now it happened that an inquisitive gardener2 perceived the plan in such a manner that the two lovers could in no way be aware of his knowledge.
This gardener went to King Mark and told him everything as it had happened. King Mark believed him.
He ordered a hunt, and separated from his knights as though he had lost his way. The knights searched for him, wandering about the forest. King Mark climbed up the pine tree which stood above the fountain where Tristan spoke with the queen.
And King Mark staying in the pine-tree at night, Messer Tristan came to the fountain and disturbed its water.
A little while after, the queen came to the fountain. And by chance she had a happy thought to look at the pine-tree. And she saw that its shadow was deeper than usual. Then the queen became afraid, and being afraid, she stopped and spoke with Tristan in this manner and said: disloyal knight, I have made you come here to complain of your misdeed, for never was such disloyalty in a knight as you have shown by your words which have dishonoured me, and your uncle king Mark who has loved you so much. And you have been saying things about me among the wandering knights that could never have place in my heart. I would give myself to the flames should I dishonour so noble a king as my lord the king Mark. Therefore I no longer recognise you as my knight, and I dismiss you as an unloyal knight with all my force and with no respect.
Tristan, hearing these words, doubted strongly, and said: my lady, if some malicious knights of Cornwall speak of me in this fashion, I say first of all that I was never guilty of such things. May it please your ladyship, but by the Lord, these knights are envious of me. I have never said or done anything that meant dishonour for you or for my uncle, the king Mark. But since it is your pleasure, I will obey your commands. I will go away to other parts to end my days. And maybe before I die, the malicious knights of Cornwall will have felt need of me as they did at the time of Amoroldo3, when I delivered them and their lands from a vile and painful servitude.
And he went away without saying another word.
King Mark who was above the two when he heard this, grew glad with a great gladness.
When morning came, Tristan made feint to go riding. He had horses and pack mules shod. Valets ran to and fro. some carrying saddles, others bridles. The commotion was great.
The king grew angry at Tristan's departure, and summoned his barons and knights. He sent an order to Tristan not to depart without his leave under pain of incurring his displeasure. Thus ordered the king, and so vigorously, that the queen sent to Tristan and bade him no go.
And so Tristan remained there, and did not depart.
Nor was he surprised or deceived again owing to the shrewd circumspection that grew up between the two.
1 Iseult la bionda, to distinguish her from Iseult dalla bianca mano "of the white hand".
2 Biagi has "an ill-disposed knight".
3 Amoraldo, King of Ireland, who, in order to extort a tribute from King Mark, laid siege to one of his towns, and was killed by Tristan.
---
---
---
Storer, Edward, trans. Il Novellino: The Hundred Old Tales. London: G. Routledge & Sons Ltd.; New York: E. P. Dutton & Co., [1925]. 154-158
---
| | |
| --- | --- |
| | |
| | |
Follow Us
Featured Item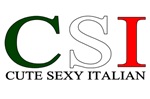 Shirts & Novelties
---
Partner Links Shops/Stores Italiansrus Gear
Proudly display the colors of Italy with these great products.

FORZIERI.com

The world largest online retailer for Premium Italian Fashions.
---
Travel Tour Italy
Customize your trip to Italy.