---
Resources
Art, Cuisine, Famous Italians, Festivals, Folklore, Genealogy, Holidays, Hotels, Photos, Real Estate, Sports, Travel and More
---
Guides
---
Surname Collection
Add your name to the collection.
---
Recipes
Authentic Italian recipes for you to enjoy.
---
Photo Galleries
Enjoy photos of Italy, wine making & more.
---
Proverbi
Proverbs in Italian & English.
---
Our Paesani
Weekly column dedicated to today's Italy.
by Francesca Di Meglio
---
Italian Memories
Articles on growing up Italian.
by Cookie Curci
---
Una Mamma Italiana
Articles for Italian mammas.
by Tiffany Longo
---
Learn Italian
English-Italian guides
Spanish-Italian guides.
---
Molto Italiano
Sign up for our FREE newsletter.
---
Trivia
Test your knowledge of Italy.
---
Il Novellino
LXIII
Of good King Meladius and the Knight Without Fear
Good King Meladius and the Knight Without Fear were mortal enemies in the field.
One day as this Knight Without Fear was wandering about disguised, after the manner of knights-errant, he met his squires who loved him dearly, but who did not recognize him.
And they said: tell us O knight-errant, by the honour of chivalry, which is the better knight, the Knight Without Fear or good King Meladius?
And the knight answered: may God prosper me! King Meladius is the best knight who ever mounted a saddle.
Then the squires, who could not abide King Meladius, for love of their master, took their lord by surprise, and lifted him thus armed from his saddle, and set him on a jade, and said aloud that they were going to hang him.
As they went on their way, they fell in with King Meladius. They found him disguised as a knight-errant on his way to a tournament, and he asked the fellows why they were that knight so villainously.
And they replied: Messer, because he has well deserved to die, and if you but knew the reason, you would treat him worse yourself than we do. Ask him of his misdeed.
King Meladius drew nearer and said: knight, what wrong have you done to these fellows that they treat you so knavishly? And the knight replied: naught. No wrong have I done to them unless it be that I favoured the cause of truth.
Said King Meladius: that cannot be. Tell me more narrowly in what way you offended. And he replied: gladly, sir. I was bent on my way, after the fashion of a kight-errant, I came across these squires, and they asked me, by the truth of chivalry to say whether good King Meladius or the Knight Wthout Fear were the better knight. And I, to favour, as I sais before, the cause of truth, said that King Meladius was the better, and I speke but to tell the truth, considering that King Meladius is my mortal enemy, and I hate him mortally. I do not wish to lie. No other wrong have I done. And therefore they at once treated me so shamefully.
Then King Meladius bagan to beat the servants, and had the knight unbound, and gave him a rich charger with his own arms (worked on the trappings) though they were covered, and he begged him not to raise the cover before reaching his castle: and they departed, and each went his way, King Meladius and the squires and the knight1.
In the evening, the knight reached the castle. He took the cover off the saddle. He found the arms of King Meladius who had set him free so handsomely, and given him a rich gift, and yet was his mortal enemy2.
1 I have changed the punctuation here considerably–to the benefit, I hope, of the sense.
2 This story, according to Manni, is taken from one of the Round Table romances. Meliadus (or Meliodas or Meliardus), King of I.yonesse, was the son of King Felix, and husband of Eliabella, daughter of old King Audrey of Sobis, and sister to King Mark of Cornwall.
---
---
---
Storer, Edward, trans. Il Novellino: The Hundred Old Tales. London: G. Routledge & Sons Ltd.; New York: E. P. Dutton & Co., [1925]. 146-148
---
| | |
| --- | --- |
| | |
| | |
Follow Us
Featured Item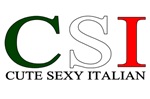 Shirts & Novelties
---
Partner Links Shops/Stores Italiansrus Gear
Proudly display the colors of Italy with these great products.

FORZIERI.com

The world largest online retailer for Premium Italian Fashions.
---
Travel Tour Italy
Customize your trip to Italy.