---
Resources
Art, Cuisine, Famous Italians, Festivals, Folklore, Genealogy, Holidays, Hotels, Photos, Real Estate, Sports, Travel and More
---
Guides
---
Surname Collection
Add your name to the collection.
---
Recipes
Authentic Italian recipes for you to enjoy.
---
Photo Galleries
Enjoy photos of Italy, wine making & more.
---
Proverbi
Proverbs in Italian & English.
---
Our Paesani
Weekly column dedicated to today's Italy.
by Francesca Di Meglio
---
Italian Memories
Articles on growing up Italian.
by Cookie Curci
---
Una Mamma Italiana
Articles for Italian mammas.
by Tiffany Longo
---
Learn Italian
English-Italian guides
Spanish-Italian guides.
---
Molto Italiano
Sign up for our FREE newsletter.
---
Trivia
Test your knowledge of Italy.
---
Il Novellino
LXII
Here is told a tale of Messer Roberto
Mount Arimini is in Burgundy, and there is a lord called Roberto, and it is a great county.
The countess and her maids had a sottish door-keeper, who was, however, a man of robust build, and his name was Baligante. One of the maids began to lie with him; then she spoke of him to another until the Countess heard of him.
When the Countess heard how robust a man he was, she lay with him too.
The lord found them out. He had the man killed, and made a pie of his heart, and presented it to the Countess and her maids, and they ate of it.
After the meal, the lord came to the hall, and asked how the pie had been. They all answered: good! Then the lord said: it is no wonder, seeing that you liked Baligante alive, that you should like him dead.
And the Countess and the maids when they heard this, were ashamed, and saw clearly that they had lost their honour in this world.
They became nuns and founded a convent, which is called the Convent of the Nuns of Rimino Monte.
The house grew apace, and became passing rich. And this tale is told, and it is true. For there they have this custom that whenever any gentleman passes with a great quantity of chattels they invite him, and show him honour.
And the Abbess and the sisters come out to meet him, and after some conversation1 whichever he likes best, serves him and accompanies him to board and to bed.
In the morning, when he rises, he finds water and fine linen, and when he has washed, she prepares a needle for him with a silk thread, and he must pass the thread through the eye of the needle, and if at the third trial he finds he cannot succeed, then the women deprve him of all his chattels, and give him nothing back.
And if at the third trial, he threads the needle, they give him back his arms, and present him with beautiful jewels.
1 Orig. in sul donneare. The meaning is uncertain. The tale is of course to be found in the Decameron, IV, 9.
---
---
---
Storer, Edward, trans. Il Novellino: The Hundred Old Tales. London: G. Routledge & Sons Ltd.; New York: E. P. Dutton & Co., [1925]. 144-145
---
| | |
| --- | --- |
| | |
| | |
Follow Us
Featured Item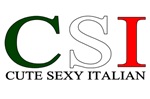 Shirts & Novelties
---
Partner Links Shops/Stores Italiansrus Gear
Proudly display the colors of Italy with these great products.

FORZIERI.com

The world largest online retailer for Premium Italian Fashions.
---
Travel Tour Italy
Customize your trip to Italy.