---
Resources
Art, Cuisine, Famous Italians, Festivals, Folklore, Genealogy, Holidays, Hotels, Photos, Real Estate, Sports, Travel and More
---
Guides
---
Surname Collection
Add your name to the collection.
---
Recipes
Authentic Italian recipes for you to enjoy.
---
Photo Galleries
Enjoy photos of Italy, wine making & more.
---
Proverbi
Proverbs in Italian & English.
---
Our Paesani
Weekly column dedicated to today's Italy.
by Francesca Di Meglio
---
Italian Memories
Articles on growing up Italian.
by Cookie Curci
---
Una Mamma Italiana
Articles for Italian mammas.
by Tiffany Longo
---
Learn Italian
English-Italian guides
Spanish-Italian guides.
---
Molto Italiano
Sign up for our FREE newsletter.
---
Trivia
Test your knowledge of Italy.
---
Il Novellino
LXI
Here it is told of the philosopher Socrates, and how he answered the Greeks
Socrates was a noble Roman philosopher1, and in his days the Greeks sent a great and noble embassy to the Romans.
The purpose of their embassy was to adduce arguments to free themselves of the tribute they paid to the Romans. And the Sultan gave them these instructions: go and make use of arguments, And if necessary, use money.
The ambassadors reached Rome.
The purpose of their embassy was set forth in the Roman Council.
The Roman Council decided that the reply to the Greeks' question should be made by the philosopher Socrates; it being decided without any further conditions that Rome would stand by whatever Socrates answered.
The ambassadors went to Socrates' dwelling, very far from Rome, to set their arguments before him.
They arrived at his house, which was quite unpretending. They found him picking parsley. They caught sight of him from a distance. He was a man of simple appearance. They conversed with one another, and considered the above-mentioned facts. And they said to one another: this man will be an easy bargain for us, for he seemed to them to be poor rather than rich.
They arrived and said: may God save you, O man of great wisdom, for so you must be since the Romans have entrusted so weighty a matter as this to you.
They showed him the decision of Rome, and said to him: we shall set our reasonable arguments, which are many, before you. Your own sense will ensure our rights. And know that we obey a rich master: you will take these perperi2 which are many, and yet for our lord are nothing, though to you they may be very useful.
And Socrates answered the ambassadors, and said: first you will dine, and then we will attend to your business.
They accepted the invitation and dined very poorly without leaving a morsel.
After dinner, Socrates spoke to the ambassadors and said: gentlemen, what is better, one thing or two things? The ambassadors replied: two. And he said: now go to the Romans with your persons, for if the city of Rome has the persons of the Greeks, it will have their persons and their goods. And if I took the gold, the Romans would lose their trust in me.
Then the ambassadors left the philosopher, full of shame, and obeyed the Romans.
1 Various commentators have observed that this tale is only a garbled version of the story told of Curio by Cicero in his De Senectute, 55. See also Gesta Romanorum, ch. LXI.
2 The perpero was a Byzantine gold coin.
---
---
---
Storer, Edward, trans. Il Novellino: The Hundred Old Tales. London: G. Routledge & Sons Ltd.; New York: E. P. Dutton & Co., [1925]. 141-143
---
| | |
| --- | --- |
| | |
| | |
Follow Us
Featured Item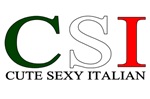 Shirts & Novelties
---
Partner Links Shops/Stores Italiansrus Gear
Proudly display the colors of Italy with these great products.

FORZIERI.com

The world largest online retailer for Premium Italian Fashions.
---
Travel Tour Italy
Customize your trip to Italy.