---
Resources
Art, Cuisine, Famous Italians, Festivals, Folklore, Genealogy, Holidays, Hotels, Photos, Real Estate, Sports, Travel and More
---
Guides
---
Surname Collection
Add your name to the collection.
---
Recipes
Authentic Italian recipes for you to enjoy.
---
Photo Galleries
Enjoy photos of Italy, wine making & more.
---
Proverbi
Proverbs in Italian & English.
---
Our Paesani
Weekly column dedicated to today's Italy.
by Francesca Di Meglio
---
Italian Memories
Articles on growing up Italian.
by Cookie Curci
---
Una Mamma Italiana
Articles for Italian mammas.
by Tiffany Longo
---
Learn Italian
English-Italian guides
Spanish-Italian guides.
---
Molto Italiano
Sign up for our FREE newsletter.
---
Trivia
Test your knowledge of Italy.
---
Il Novellino
LVII
The Woman and the Pear-tree
There was once a rich man who had a very beautiful woman to wife, and this man loved her much and was very jealous of her.
Now it happened, in God's pleasure, that this man had an illness of the eyes whence he became blind and saw the light no more.
Now it befell that this man did not leave his wife, nor ever let her out of his reach, for he feared she might go astray.
Thus it chanced that a man of the countryside fell in love with this woman, and not seeing how he could find an opportunity to converse with her–for her husband was always at her side–he came near to losing his reason for love of her.
And the woman seeing him so enamoured of her, said to him: you see, I can do nothing, for this man never leaves me.
So the good man did not know what to do or say. It seemed he would die for love. He could find no way of meeting the woman alone.
The woman, seeing the behaviour of this gentle man and all that he did, thought of a way of helping him. She made a long tube of cane, and placed it to the ear of rhe man, and spoke to him in this fashion so that her husband could not hear. And she said to the good man: I am sorry for you, and I have thought of a way of helping you. Go into the garden, and climb up a pear-tree which has many fine pears, and wait for me up there, and I will come up to you.
The good man went at once into the garden, and climbed up the pear-tree, and awaited the woman.
Now came the time when the woman was in the garden, and she wished to help the good man, and her husband was still by her side, and she said: I have a fancy for those pears which are at the top of that pear-tree, for they are very fine. And the husband said: call some one to pluck them for you. And the woman said: I will pluck them myself; otherwise I should not enjoy them.
Then the woman approached the tree to climb it, and her husband came with her to the foot of the tree, and he put his arms around the trunk of the tree, so that no one could follow her up it.
Now it happened that the woman climbed up the pear-tree to her friend, who was awaiting her, and they were very happy together, and the pear-tree shook with their weight, and the pears fell down on top of the husband.
Then the husband said: what are you doing, woman, you are knocking all the pears down? And the woman replied: I wanted the pears off a certain branch, and only so could I get them.
Now you must know that the Lord God and Saint Peter seeing this happening, Saint Peter said to the Lord God: do you not see the trick that woman is playing on her husband? Order that the husband see again, so he may perceive what his wife does.
And the Lord God said: I tell you, Saint Peter, that no sooner does he see the light than the woman will find an excuse, so I will that light come to him, and you shall see what she will say.
Then the light came to him, and he looked up and saw what the woman was doing. What are you doing with that man? You honour neither yourself nor me, nor is this loyal in a woman. And the woman replied at once: if I had not done so, you would not have seen the light.
And the husband, hearing this, was satisfied. So you see how women and females are loyal, and how quickly they find excuses.1
1 This novella is not in ihc Gualteruzzi edition, but is to be found in thai by Papanti founded on the Panciatichiano MS.
---
---
---
Storer, Edward, trans. Il Novellino: The Hundred Old Tales. London: G. Routledge & Sons Ltd.; New York: E. P. Dutton & Co., [1925]. 130-133
---
| | |
| --- | --- |
| | |
| | |
Follow Us
Featured Item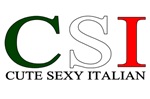 Shirts & Novelties
---
Partner Links Shops/Stores Italiansrus Gear
Proudly display the colors of Italy with these great products.

FORZIERI.com

The world largest online retailer for Premium Italian Fashions.
---
Travel Tour Italy
Customize your trip to Italy.