---
Resources
Art, Cuisine, Famous Italians, Festivals, Folklore, Genealogy, Holidays, Hotels, Photos, Real Estate, Sports, Travel and More
---
Guides
---
Surname Collection
Add your name to the collection.
---
Recipes
Authentic Italian recipes for you to enjoy.
---
Photo Galleries
Enjoy photos of Italy, wine making & more.
---
Proverbi
Proverbs in Italian & English.
---
Our Paesani
Weekly column dedicated to today's Italy.
by Francesca Di Meglio
---
Italian Memories
Articles on growing up Italian.
by Cookie Curci
---
Una Mamma Italiana
Articles for Italian mammas.
by Tiffany Longo
---
Learn Italian
English-Italian guides
Spanish-Italian guides.
---
Molto Italiano
Sign up for our FREE newsletter.
---
Trivia
Test your knowledge of Italy.
---
Il Novellino
L
Here it is told of Master Francis, son of Master Accorso of Bologna
Master Francis, son of Master Accorso of the city of Bologna,1 when he returned from England, where he had long sojourned, put this problem to the municipality of Bologna, and said: the father of a family left his town in poverty and abandoned his sons, and went into remote parts. After a certain time, he saw some men of his own country. Prompted by love of his children, he questioned them, and they replied: Messer, your children have had great gains, and are grown rich. When he heard this, he decided to depart and returned home. He found his sons rich. He asked them to reinstate him in his possessions as their father and lord. The sons refused, saying: father we have earned this: it has naught to do with you. So that there came about a law-suit.
Now, in accordance with the law, the father became master of all the sons had earned. And so I ask of the commune of Bologna that the possessions of my sons come under my keeping, that is the possessions of my scholars. For they have become great masters, and have earned much since I left them.
May it please the commune of Bologna, now that I have returned, to make me once more master and father, in obedience to the law which treats of the father of a family.
1 Francis, son of the famous jurist of Florence, Accorso da Bagnolo, was professor of Civil Law in the University of Bologna. He went to England at the request of Edward I, where he remained until 1281. See Dante, Inferno, XV, 110.
---
---
---
Storer, Edward, trans. Il Novellino: The Hundred Old Tales. London: G. Routledge & Sons Ltd.; New York: E. P. Dutton & Co., [1925]. 122-123
---
| | |
| --- | --- |
| | |
| | |
Follow Us
Featured Item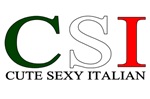 Shirts & Novelties
---
Partner Links Shops/Stores Italiansrus Gear
Proudly display the colors of Italy with these great products.

FORZIERI.com

The world largest online retailer for Premium Italian Fashions.
---
Travel Tour Italy
Customize your trip to Italy.