---
Resources
Art, Cuisine, Famous Italians, Festivals, Folklore, Genealogy, Holidays, Hotels, Photos, Real Estate, Sports, Travel and More
---
Guides
---
Surname Collection
Add your name to the collection.
---
Recipes
Authentic Italian recipes for you to enjoy.
---
Photo Galleries
Enjoy photos of Italy, wine making & more.
---
Proverbi
Proverbs in Italian & English.
---
Our Paesani
Weekly column dedicated to today's Italy.
by Francesca Di Meglio
---
Italian Memories
Articles on growing up Italian.
by Cookie Curci
---
Una Mamma Italiana
Articles for Italian mammas.
by Tiffany Longo
---
Learn Italian
English-Italian guides
Spanish-Italian guides.
---
Molto Italiano
Sign up for our FREE newsletter.
---
Trivia
Test your knowledge of Italy.
---
Il Novellino
XLVI
Here it is told how Narcissus fell in love with his own image
Narcissus1 was a valiant knight of great beauty.
One day it befell that he was resting beside a lovely fountain. And in the water he beheld his own most beautiful image. And he began to gaze upon it, and rejoiced in seeing it in that fountain; and he thought that the image had a life of its own, that it was in the water, and did not perceive that it was but an image of himself. He began to love it, and to fall so deeply in love with it, that he wished to seize it.
And the water grew troubled, and the image vanished, wherefore he began to weep.
And the water became clear once more, and he beheld the image weeping.
Then he let himself slip into the fountain, so that he drowned.
The season was spring-time.
Some women came to the fountain for sport. They saw the fair Narcissus drowned. They drew him from the fountain with great lamentation, and set him by its rim.
The news of it came to the God of Love.
Wherefore the God of Love made of him a most lovely and verdant almond tree, and it was and is the first tree that bears fruit and renews the time for loving.2
1 Narcis in the text.
2 The almond is the first tree to blossom but not to bear fruit. In Ovid (Metam. III) Narcissus is, of course, changed into the flower that bears his name.
---
---
---
Storer, Edward, trans. Il Novellino: The Hundred Old Tales. London: G. Routledge & Sons Ltd.; New York: E. P. Dutton & Co., [1925]. 117-118
---
| | |
| --- | --- |
| | |
| | |
Follow Us
Featured Item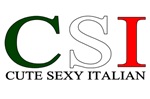 Shirts & Novelties
---
Partner Links Shops/Stores Italiansrus Gear
Proudly display the colors of Italy with these great products.

FORZIERI.com

The world largest online retailer for Premium Italian Fashions.
---
Travel Tour Italy
Customize your trip to Italy.