---
Resources
Art, Cuisine, Famous Italians, Festivals, Folklore, Genealogy, Holidays, Hotels, Photos, Real Estate, Sports, Travel and More
---
Guides
---
Surname Collection
Add your name to the collection.
---
Recipes
Authentic Italian recipes for you to enjoy.
---
Photo Galleries
Enjoy photos of Italy, wine making & more.
---
Proverbi
Proverbs in Italian & English.
---
Our Paesani
Weekly column dedicated to today's Italy.
by Francesca Di Meglio
---
Italian Memories
Articles on growing up Italian.
by Cookie Curci
---
Una Mamma Italiana
Articles for Italian mammas.
by Tiffany Longo
---
Learn Italian
English-Italian guides
Spanish-Italian guides.
---
Molto Italiano
Sign up for our FREE newsletter.
---
Trivia
Test your knowledge of Italy.
---
Il Novellino
XLII
Here is told an excellent tale of William of Borganda of Provence
William of Borganda1 was a noble knight of Provence in the days of Count Raymond Berenger2.
One day it came to pass that some knights were boasting3 and William boasted that there was no nobleman in Provence whom he had not knocked from his saddle, and then he said that there was no woman in Provence who deserved the honour of a tournament4. And this he said in the Count's presence. And the Count answered: does that include me too? William replied: yes, you, my lord; I say it to you.
He sent for his horse, saddled and well caparisoned, attached his spurs, and set his feet in the stirrups, and when he was ready, he turned to the Count and said: you sir, I neither include nor accept5. And he mounted his horse and spurred it and went off. The Count was so sore grieved that he did not return to the court.
One day some ladies were gathered together for a splendid banquet; and they sent for William of Borganda, and the Countess was there and they said: now tell us, William, why you have so insulted the ladies of Provence? It shall cost you dear.
Each one of them had a stick hidden away.
The one who acted as spokeswoman said: lo! William for your folly it behoves you to die.
And William spoke, and said, seeing that he was taken unawares in such a fashion: I beg you, ladies, by your courtesy that you grant me one favour. The ladies answered: ask, save that you ask not to escape.
Then William spoke and said: ladies, I beg you of your courtesy that whoever among you be the greatest hussy be the first to strike me.
Then they looked at one another: no one was found willing to deal the first blow, and so on that occasion he got away unscathed6.
1 Or "Bergdam".
2 The last count of Provence, who died in 1245. See Dante, Par.VI, 135.
3 The boasts of the knights figure greatly in knightly legend and story.
4 Underlined so in the original.
5 Orig.: ne metto, ne traggo. I do not put you among the number of knigbti defeated by me nor do I exclude you from them. In other words: I don't know what to make of you. The tale is probably corrupt in the MS.
6 The story is told of other knights in several different places. See Livre du Chevalier de la Tour Landry.
---
---
---
Storer, Edward, trans. Il Novellino: The Hundred Old Tales. London: G. Routledge & Sons Ltd.; New York: E. P. Dutton & Co., [1925]. 112-114
---
| | |
| --- | --- |
| | |
| | |
Follow Us
Featured Item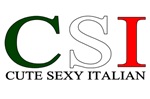 Shirts & Novelties
---
Partner Links Shops/Stores Italiansrus Gear
Proudly display the colors of Italy with these great products.

FORZIERI.com

The world largest online retailer for Premium Italian Fashions.
---
Travel Tour Italy
Customize your trip to Italy.