---
Resources
Art, Cuisine, Famous Italians, Festivals, Folklore, Genealogy, Holidays, Hotels, Photos, Real Estate, Sports, Travel and More
---
Guides
---
Surname Collection
Add your name to the collection.
---
Recipes
Authentic Italian recipes for you to enjoy.
---
Photo Galleries
Enjoy photos of Italy, wine making & more.
---
Proverbi
Proverbs in Italian & English.
---
Our Paesani
Weekly column dedicated to today's Italy.
by Francesca Di Meglio
---
Italian Memories
Articles on growing up Italian.
by Cookie Curci
---
Una Mamma Italiana
Articles for Italian mammas.
by Tiffany Longo
---
Learn Italian
English-Italian guides
Spanish-Italian guides.
---
Molto Italiano
Sign up for our FREE newsletter.
---
Trivia
Test your knowledge of Italy.
---
Il Novellino
XLI
A tale of Messer Polo Traversaro
Messer Polo Traversaro1 came from Romagna, and was the greatest noble in all that land, and he ruled over almost all of it without opposition.
There were three very swaggering knights, and they held that in all Romagna there was no man worthy to sit with them as a fourth in company.
And so in their meeting-place they had a bench for three, and more could not be seated thereon, and no one dared to seat himself there for fear of their truculence.
And although Messer Polo was their superior and in other things, they were obedient to his commands, yet in that desirable place he did not dare to sit. They admitted, however, that he was the first lord of Romagna and the one who came nearest of all to making a fourth in their company.
What did the three knights do, seeing that Messer Polo was pressing them hard? They walled up half the door of their palace so that he could not enter2. For the man was of a very stout build. Not being able to enter, he undressed and went in in his shirt.
When they heard him, they got into their beds, and had themselves covered up as though they were ill.
Messer Polo, who had thought to find them at table, discovered them in bed. He comforted them, and interrogated them, and inquired as to their ailments, and perceiving everything, took his leave and went away.
The knights said: this is no joke!
They went to the village of one of their number where he had a beautiful little castle with moats and a draw-bridge.
They decided to winter there. One day Messer Polo went thither with a numerous company, and when they wanted to enter, the three knights raised the bridge. Say what they would, they did not succeed in entering.
So they went away.
When the winter had passed, the knights returned to the city.
Messer Polo, at their return, did not rise, and they were astonished, and one of them said: O Messer, alack, is this the courtesy you show? When strangers come to your city, do you show them no honour?
And Messer Polo replied: pardon me, gentle sirs, if I do not rise save for the bridge that rose for me.
Then the knights made much of him.
One of the knights died, and the other two sawed off the third of the bench on which they sat, when the third was dead, because in all Romagna they could not find any knight who was worthy to sit in his place.
1 Paolo, or Paul. The Traversaro family was one of the principal families of Ravenna. See Dante, Purg. XIV, 98 and 107. Also Boccaccio, Decameron, Giorno X, Nov. 8.
2 Following the reading of Biagi.
---
---
---
Storer, Edward, trans. Il Novellino: The Hundred Old Tales. London: G. Routledge & Sons Ltd.; New York: E. P. Dutton & Co., [1925]. 110-112
---
| | |
| --- | --- |
| | |
| | |
Follow Us
Featured Item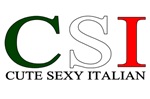 Shirts & Novelties
---
Partner Links Shops/Stores Italiansrus Gear
Proudly display the colors of Italy with these great products.

FORZIERI.com

The world largest online retailer for Premium Italian Fashions.
---
Travel