---
Resources
Art, Cuisine, Famous Italians, Festivals, Folklore, Genealogy, Holidays, Hotels, Photos, Real Estate, Sports, Travel and More
---
Guides
---
Surname Collection
Add your name to the collection.
---
Recipes
Authentic Italian recipes for you to enjoy.
---
Photo Galleries
Enjoy photos of Italy, wine making & more.
---
Proverbi
Proverbs in Italian & English.
---
Our Paesani
Weekly column dedicated to today's Italy.
by Francesca Di Meglio
---
Italian Memories
Articles on growing up Italian.
by Cookie Curci
---
Una Mamma Italiana
Articles for Italian mammas.
by Tiffany Longo
---
Learn Italian
English-Italian guides
Spanish-Italian guides.
---
Molto Italiano
Sign up for our FREE newsletter.
---
Trivia
Test your knowledge of Italy.
---
Il Novellino
IV
How a jongleur lamented before Alexander the conduct of a knight, to whom he had made a gift on condition that the knight should give him whatsoever Alexander might present him with1
When Alexander was before the city of Gaza, with a vast besieging train, a noble knight escaped from prison. And being poorly provided in raiment and accoutrement, he set forth to see Alexander who lavished his gifts more prodigally than other lords.
As the knight walked along his way, he fell in with a gentleman of the court2 who asked him whither he was going. The knight replied : I am going to Alexander to request some gifts from him, so that I may return with honour to my country. Then the man of the court said, what is it that you want, for I will give it to you, provided that you give me what Alexander may present you with. The knight made answer : give me a horse to ride and a beast of burden and such things and money as will suffice for me to make return to my own country. The jongleur gave him these, and they went on in company together to Alexander, who having fought a desperate action before the city of Gaza, had left the battlefield and was being relieved of his armour in a tent.
The knight and the jongleur came forward. The knight made his request to Alexander humbly and graciously. Alexander made no sign, nor did he give any reply. The knight left the man of the court and set out on the road to return to his own country.
He had not gone very far, however, when the citizens of Gaza brought the keys of the city to Alexander, submitting themselves entirely to him as their lord.
Alexander then turned to his barons and said : where is he who asked a gift of me ? Then they sent for the knight who had asked the king for a gift. The knight came before the king, who said to him : take, noble knight, the keys of the city of Gaza which most willingly I give you. The knight replied : Sire, do not give me a city. I beg you rather to give me gold or silver or other things as it may please you.
Then Alexander smiled, and ordered that the knight should be given two thousand silver marks.3 And this was set down for the smallest gift which Alexander ever made. The knight took the marks and handed them to the jongleur. The latter came before Alexander, and with great insistence asked that he should be heard, and so much he argued that he had the knight arrested.
And he shaped his argument before Alexander in this wise : Sire, I found this man on the road and asked him whither he was going and why, and he told me he was going to Alexander to ask a gift. I made a pact with him, giving him what he desired on condition that he should give me whatsoever Alexander should make him a present of. Therefore he has broken the pact, for he refused the noble city of Gaza, and took the marks. Therefore, before your excellency, I ask that you heed my request and order him to make up the difference between the value of the city and the marks.
The knight spoke, and first of all he confessed that the pact had been so, and then he said : just Sire, he who asks me this is a jongleur, and a jongleur's heart may not aspire to the lordship of a city. He was thinking of silver and of gold, and such was his desire. I have fully satisfied his intention. Therefore, I beg your lordship to see to my deliverance as may please your wise counsel.
Alexander and his barons set free the knight, and complimented him on his wisdom.4
1 This story is of Oriental origin. It occurs in some venions of The Thousand and One Nights.
2 Guillare ; court minstrel, story-teller, buffoon. As these men frequented the courts of kings and nobles, they were cilled men of thc court.
3 A mark had the value of four-and-a-half florins.
4 The story appears in the French poem of Lambert Le Tort and Alexander de Bernay, with a slight variation.
---
---
---
Storer, Edward, trans. Il Novellino: The Hundred Old Tales. London: G. Routledge & Sons Ltd.; New York: E. P. Dutton & Co., [1925]. 44-48
---
| | |
| --- | --- |
| | |
| | |
Follow Us
Featured Item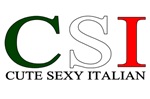 Shirts & Novelties
---
Partner Links Shops/Stores Italiansrus Gear
Proudly display the colors of Italy with these great products.

FORZIERI.com

The world largest online retailer for Premium Italian Fashions.
---
Travel Tour Italy
Customize your trip to Italy.