---
Resources
Art, Cuisine, Famous Italians, Festivals, Folklore, Genealogy, Holidays, Hotels, Photos, Real Estate, Sports, Travel and More
---
Guides
---
Surname Collection
Add your name to the collection.
---
Recipes
Authentic Italian recipes for you to enjoy.
---
Photo Galleries
Enjoy photos of Italy, wine making & more.
---
Proverbi
Proverbs in Italian & English.
---
Our Paesani
Weekly column dedicated to today's Italy.
by Francesca Di Meglio
---
Italian Memories
Articles on growing up Italian.
by Cookie Curci
---
Una Mamma Italiana
Articles for Italian mammas.
by Tiffany Longo
---
Learn Italian
English-Italian guides
Spanish-Italian guides.
---
Molto Italiano
Sign up for our FREE newsletter.
---
Trivia
Test your knowledge of Italy.
---
Il Novellino
XXXVII
Here it is told of a battle between two kings of Greece
There were two kings in the parts of Greece, and one of them was more powerful than the other. They went into battle together: the more powerful one lost.
He went home and shut himself into a room wondering if he had not dreamed, and soon began to believe he had not fought at all.
Meanwhile the angel of God came to him, and said: how are you? Of what are you thinking? You have not dreamed, but have fought indeed and were beaten.
And the king looked upon the angel and said: how can that be? I had thrice as many troops as he; and the angel replied: and yet it has come to pass, since you are an enemy of God.
Then the king replied: oh, is my enemy then such a friend of God that he has beaten me for that reason?
No, said the angel, for God revenges Himself upon His enemies by means of His enemies. Go you once more with your army, and you shall defeat him even as he defeated you.
Then he went and fought anew with his foe, and defeated him and captured him as the angel had foretold.
---
---
---
Storer, Edward, trans. Il Novellino: The Hundred Old Tales. London: G. Routledge & Sons Ltd.; New York: E. P. Dutton & Co., [1925]. 105-106
---
| | |
| --- | --- |
| | |
| | |
Follow Us
Featured Item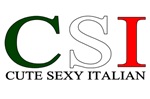 Shirts & Novelties
---
Partner Links Shops/Stores Italiansrus Gear
Proudly display the colors of Italy with these great products.

FORZIERI.com

The world largest online retailer for Premium Italian Fashions.
---
Travel Tour Italy
Customize your trip to Italy.