---
Resources
Art, Cuisine, Famous Italians, Festivals, Folklore, Genealogy, Holidays, Hotels, Photos, Real Estate, Sports, Travel and More
---
Guides
---
Surname Collection
Add your name to the collection.
---
Recipes
Authentic Italian recipes for you to enjoy.
---
Photo Galleries
Enjoy photos of Italy, wine making & more.
---
Proverbi
Proverbs in Italian & English.
---
Our Paesani
Weekly column dedicated to today's Italy.
by Francesca Di Meglio
---
Italian Memories
Articles on growing up Italian.
by Cookie Curci
---
Una Mamma Italiana
Articles for Italian mammas.
by Tiffany Longo
---
Learn Italian
English-Italian guides
Spanish-Italian guides.
---
Molto Italiano
Sign up for our FREE newsletter.
---
Trivia
Test your knowledge of Italy.
---
Il Novellino
XXXIV
How two noble knights loved each other with a great love
Two noble knights loved each other with a great love. The name of one was Messer G–– and the name of the other Messer S––.
These two knights had long loved each other.
Then one of them began to think and say to himself in this wise: Messer S. has a fine palfrey. Were I to ask him, would he give it me? And so thinking, would he or would he not, he came to believe at last that he would not. The knight was much disturbed.
And he began to encounter his friend with a strange manner. And, thinking over the thing every day, he grew more and more glum. He ceased to speak to his friend and turned the other way when he met him.
The people wondered greatly, and he wondered too greatly himself.
It chanced one day that Messer S., he who owned the palfrey, could bear it no longer. He went to his friend and said: my friend, why do you not speak to me? Why are you angry? The other replied: because I asked you for your palfrey and you denied it me.
And the other replied: that was never so. It cannot be. The palfrey and my own person are yours, for I love you as myself.
Then the knight became reconciled with his friend and he turned to the old amity, and recognised that he had not thought well1.
1 This novel probably derives from the ascetic or ecclesiastical collections and purports to show the dangers of too lively a fantasy on the morals.
---
---
---
Storer, Edward, trans. Il Novellino: The Hundred Old Tales. London: G. Routledge & Sons Ltd.; New York: E. P. Dutton & Co., [1925]. 100-101
---
| | |
| --- | --- |
| | |
| | |
Follow Us
Featured Item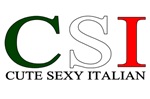 Shirts & Novelties
---
Partner Links Shops/Stores Italiansrus Gear
Proudly display the colors of Italy with these great products.

FORZIERI.com

The world largest online retailer for Premium Italian Fashions.
---
Travel