---
Resources
Art, Cuisine, Famous Italians, Festivals, Folklore, Genealogy, Holidays, Hotels, Photos, Real Estate, Sports, Travel and More
---
Guides
---
Surname Collection
Add your name to the collection.
---
Recipes
Authentic Italian recipes for you to enjoy.
---
Photo Galleries
Enjoy photos of Italy, wine making & more.
---
Proverbi
Proverbs in Italian & English.
---
Our Paesani
Weekly column dedicated to today's Italy.
by Francesca Di Meglio
---
Italian Memories
Articles on growing up Italian.
by Cookie Curci
---
Una Mamma Italiana
Articles for Italian mammas.
by Tiffany Longo
---
Learn Italian
English-Italian guides
Spanish-Italian guides.
---
Molto Italiano
Sign up for our FREE newsletter.
---
Trivia
Test your knowledge of Italy.
---
Il Novellino
XXXIII
Here is told a tale of Messer Imberal del Balzo
Messer Imberal del Balzo1 had a great castle in Provence, and he made much account of auguries as the Spaniards do, and a philosopher, whose name was Pythagoras and came from Spain2, wrote an astronomical table, in which were many meanings of animals, according to the twelve signs of the zodiac. When birds quarrel. When a man finds a weasel in the road. When the fire sings, and many meanings of jays and magpies and crows and of many other animals, according to the moon.
And so Messer Imberal, riding one day with his company, was taking great care to avoid these birds, for he feared to encounter an augury. He found a woman on his path, and asked her and said: tell me, good woman, whether you have this morning found or seen any birds such as crows, ravens or magpies.
And the woman answered: Sir, I saw a crow on the trunk of a willow tree. Now tell me, woman, in what direction was it holding its tail? And the woman replied: Sir, it held it turned towards its behind.3 Then Messer Imberal feared the augury, and said to his companions: before God, I will ride no more to-day nor to-morrow in the face of this augury.
And often was this tale told in Provence, because of the novel reply which that woman had inadvertently given.
1 En Barral, or Sire Barral, lord of the noble house of Balzo in Provence. He was a lover of letters, philosophy and the arcane arts.
2 The famous philosopher, reputed the founder of mathematics, was not born in Spain but in Samos. This is another of the numerous instances of the fantastic geographical and historical notions of the compiler of the Novellino.
3 Imberal expect her to say towards which of the cardinal poinu the bird's tail was turned.
---
---
---
Storer, Edward, trans. Il Novellino: The Hundred Old Tales. London: G. Routledge & Sons Ltd.; New York: E. P. Dutton & Co., [1925]. 98-100
---
| | |
| --- | --- |
| | |
| | |
Follow Us
Featured Item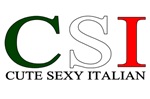 Shirts & Novelties
---
Partner Links Shops/Stores Italiansrus Gear
Proudly display the colors of Italy with these great products.

FORZIERI.com

The world largest online retailer for Premium Italian Fashions.
---
Travel Tour Italy
Customize your trip to Italy.