---
Resources
Art, Cuisine, Famous Italians, Festivals, Folklore, Genealogy, Holidays, Hotels, Photos, Real Estate, Sports, Travel and More
---
Guides
---
Surname Collection
Add your name to the collection.
---
Recipes
Authentic Italian recipes for you to enjoy.
---
Photo Galleries
Enjoy photos of Italy, wine making & more.
---
Proverbi
Proverbs in Italian & English.
---
Our Paesani
Weekly column dedicated to today's Italy.
by Francesca Di Meglio
---
Italian Memories
Articles on growing up Italian.
by Cookie Curci
---
Una Mamma Italiana
Articles for Italian mammas.
by Tiffany Longo
---
Learn Italian
English-Italian guides
Spanish-Italian guides.
---
Molto Italiano
Sign up for our FREE newsletter.
---
Trivia
Test your knowledge of Italy.
---
Il Novellino
XXXI
Here it is told of a story-teller of Messer Azzolino
Messer Azzolino1 had a story-teller whom he made tell him tales during the long nights of winter. It happened that one night the story-teller had a great desire to sleep, while Azzolino urged him to tell tales.
The story-teller began a tale of a countryman who had a hundred byzantines2 of his own which he took with him to the market to buy sheep at the price of two per byzantine. Returning with his sheep he came to a river he had passed before much swollen with the rains which had recently fallen. Standing on the bank, he saw a poor fisherman with a boat, but of so small a size that there was only room for the countryman and one sheep at a time. Then the countryman began to cross over with one sheep, and he began to row: the river was wide. He rowed and passed over.
And here the story-teller ceased his talc.
Azzolino said: go on! And the story-teller replied: let the sheep cross over and then I will tell you the tale. Since the sheep would not have crossed in a year, he could meanwhile sleep at his ease.3
1 Azzolino or Ezzelino da Romano, born 1194, died 1259 in battle against the Milanese. Known as tyrant of Padua and the Marca Trevigiana. Dante (Inf. XII, 110, and Par. IX, 29) places him among the tyrants.
2 Ancient coin belonging to the Eastern Empire.
3 Appears elsewhere in slightly different forms. See Don Quixote and Disciplina clericalis.
---
---
---
Storer, Edward, trans. Il Novellino: The Hundred Old Tales. London: G. Routledge & Sons Ltd.; New York: E. P. Dutton & Co., [1925]. 95-96
---
| | |
| --- | --- |
| | |
| | |
Follow Us
Featured Item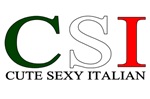 Shirts & Novelties
---
Partner Links Shops/Stores Italiansrus Gear
Proudly display the colors of Italy with these great products.

FORZIERI.com

The world largest online retailer for Premium Italian Fashions.
---
Travel Tour Italy
Customize your trip to Italy.