---
Resources
Art, Cuisine, Famous Italians, Festivals, Folklore, Genealogy, Holidays, Hotels, Photos, Real Estate, Sports, Travel and More
---
Guides
---
Surname Collection
Add your name to the collection.
---
Recipes
Authentic Italian recipes for you to enjoy.
---
Photo Galleries
Enjoy photos of Italy, wine making & more.
---
Proverbi
Proverbs in Italian & English.
---
Our Paesani
Weekly column dedicated to today's Italy.
by Francesca Di Meglio
---
Italian Memories
Articles on growing up Italian.
by Cookie Curci
---
Una Mamma Italiana
Articles for Italian mammas.
by Tiffany Longo
---
Learn Italian
English-Italian guides
Spanish-Italian guides.
---
Molto Italiano
Sign up for our FREE newsletter.
---
Trivia
Test your knowledge of Italy.
---
Il Novellino
III
Of a wise Greek whom a King left in prison, and how he judged of a courser
In the parts of Greece there was a nobleman who wore a king's crown and had a mighty realm. His name was Philip, and he held in prison a learned Greek for some misdeed of the latter. So learned was this Greek that his intellect saw beyond the stars.
It happened one day that the king received from Spain the gift of a noble courser of great strength and perfect form. And the king called for his shoeing-smith that he might learn of the worth of the steed, and it was answered him that the wisest counsellor in all things lay in his majesty's prison.
The horse was ordered to be brought to the exercising ground, while the Greek was set free from the prison. Look over this horse for me, said the king, for I have heard that you are instructed in many things. The Greek examined the courser and said : Sire, the horse is indeed a fine one, but I must tell you that it has been reared on asses' milk. The king sent into Spain to learn how the horse had been reared, and heard that its dam having died, the foal had been reared on asses' milk. This caused the king great surprise, and he ordered that half a loaf of bread should be given to the Greek every day at the expense of the court.
Then it happened one day thai the king gathered all his precious gems together, and calling the Greek out of prison, said to him : master, you are a wise fellow and understand all things. Tell me, if you know aught of precious stones, which is the rarest of all these?
The Greek looked and said : which. Sire, is dearest to you? The king took up a stone, beautiful above the others, and said: master, this seems to me the loveliest and of the greatest value.
The Greek took it up and laid it in his hand and closed his fingers on it, and laid it to his ear and said : Sire, there is a worm here. The king sent for his master jeweller and had the stone broken open, and found a live worm in it. Then he praised the marvellous science of the Greek, and ordered that a whole loaf of bread be given him each day at the expense of the court.
Then after many days, the king bethought himself that he was not the legitimate king. He sent for the Greek, and took him into a secret place aad began to speak and said : I believe you are a master of great learning, as I have clearly seen yon prove yourself in matters whereof I have questioned you. I want you to tell me now whose son I am.
The Greek replied : you know well. Sire, you are the son of such a father. And the king said : do not answer me as you think merely to please me. Answer me truly, for if you do not I will send you to an evil death. Then the Greek spoke and said : Sire, I tell you you are the son of a baker. Then the king cried : I will learn this of my mother, and he sent for her, and with ferocious threats constrained her to speak. His mother confessed the truth.
Then the king closeted himself in a room with the Greek and said : my master, I have seen great proof of your wisdom. Tell me, I beg of you, how you knew these things. Then the Greek made answer. Sire, I will tell you. I knew that the courser was raised on asses' milk from common mother wit, since I saw that its ears drooped, which is not the nature of horses. I knew of the worm in the stone, for stones are naturally cold, and this one was warm. Warm it could not be naturally, were it not for some animal possessing life. And how did you know I was a baker's son, asked the king.
The Greek made answer : Sire, when I told you about the courser which was a marvellous thing, you ordered me the gift of half a loaf of bread a day, and when I spoke to you of the stone you gave me a whole loaf. Then it was I perceived whose son you were, for had you been the son of a king, it would have seemed a slight matter to you to give me a noble city, whereas it seemed a great thing to you to recompense me with bread as your father used to do.
Then the king perceived his meanness, and taking the Greek out of prison, made him noble gifts.
---
---
---
Storer, Edward, trans. Il Novellino: The Hundred Old Tales. London: G. Routledge & Sons Ltd.; New York: E. P. Dutton & Co., [1925]. 40-44
---
| | |
| --- | --- |
| | |
| | |
Follow Us
Featured Item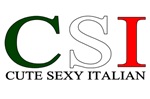 Shirts & Novelties
---
Partner Links Shops/Stores Italiansrus Gear
Proudly display the colors of Italy with these great products.

FORZIERI.com

The world largest online retailer for Premium Italian Fashions.
---
Travel Tour Italy
Customize your trip to Italy.