---
Resources
Art, Cuisine, Famous Italians, Festivals, Folklore, Genealogy, Holidays, Hotels, Photos, Real Estate, Sports, Travel and More
---
Guides
---
Surname Collection
Add your name to the collection.
---
Recipes
Authentic Italian recipes for you to enjoy.
---
Photo Galleries
Enjoy photos of Italy, wine making & more.
---
Proverbi
Proverbs in Italian & English.
---
Our Paesani
Weekly column dedicated to today's Italy.
by Francesca Di Meglio
---
Italian Memories
Articles on growing up Italian.
by Cookie Curci
---
Una Mamma Italiana
Articles for Italian mammas.
by Tiffany Longo
---
Learn Italian
English-Italian guides
Spanish-Italian guides.
---
Molto Italiano
Sign up for our FREE newsletter.
---
Trivia
Test your knowledge of Italy.
---
Il Novellino
XXIX
Here it is told how some learned astrologers disputed about the Empyrean
Some very learned men at a school in Paris were disputing about the Empyrean1, and spoke of it with great longing and how it was above the other heavens.
They spoke of the heaven where Jupiter is and Saturn and Mars, and that of the Sun and of Mercury and the Moon. And how that above all was the Empyrean. And above that is God the Father in all His majesty.
As they were thus conversing, there came to them a fool who said to them: gentlemen, what is there over the head of that gentleman?2 One of the learned men answered jestingly: There is a hat. And the fool went away, and the wise men remained. One of them said: you think you have given the fool a rebuff, but it is we who have suffered it3. Now let us say: what is there overhead?4 They put all their science to a test, but could find no answer. Then they said: a fool is he who is so bold as to put his mind outside the circle.5 And still more foolish and rash is he who toils and meditates to discover his own origin6.
And quite without sense is he who would know God's profounest thoughts.
1 The Empyrean is the seventh and outermost Heaven of Paradise.
2 (sitting there). This novella is particularly abrupt and characteristic in its elliptical constructions.
3 An untranslatable play on words: Cappello meaning hat and also sometimes rebuff, snub.
4 lit.: over head what is? supra capo che ha?
5 The circle that limits human knowledge.
6 The First Cause, or the Divinity.
---
---
---
Storer, Edward, trans. Il Novellino: The Hundred Old Tales. London: G. Routledge & Sons Ltd.; New York: E. P. Dutton & Co., [1925]. 92-94
---
| | |
| --- | --- |
| | |
| | |
Follow Us
Featured Item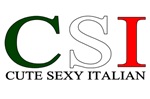 Shirts & Novelties
---
Partner Links Shops/Stores Italiansrus Gear
Proudly display the colors of Italy with these great products.

FORZIERI.com

The world largest online retailer for Premium Italian Fashions.
---
Travel Tour Italy
Customize your trip to Italy.