---
Resources
Art, Cuisine, Famous Italians, Festivals, Folklore, Genealogy, Holidays, Hotels, Photos, Real Estate, Sports, Travel and More
---
Guides
---
Surname Collection
Add your name to the collection.
---
Recipes
Authentic Italian recipes for you to enjoy.
---
Photo Galleries
Enjoy photos of Italy, wine making & more.
---
Proverbi
Proverbs in Italian & English.
---
Our Paesani
Weekly column dedicated to today's Italy.
by Francesca Di Meglio
---
Italian Memories
Articles on growing up Italian.
by Cookie Curci
---
Una Mamma Italiana
Articles for Italian mammas.
by Tiffany Longo
---
Learn Italian
English-Italian guides
Spanish-Italian guides.
---
Molto Italiano
Sign up for our FREE newsletter.
---
Trivia
Test your knowledge of Italy.
---
Il Novellino
XXVI
Here it is told of a burgher of France
A burgher of France had a wife who was extremely fair.
Once she was at a festival with other women of the city. And there was present a very beautiful woman who was much looked at by all. The burgher's wife said to herself: if I had so fine a tunic as she has, I should be no less looked at than she is.
She returned home to her husband and showed him a cross face.
Her husband asked her frequently why she was so aggrieved. And the woman replied: because I am not dressed so that I can be with other women. For at such and such a feast, the other women who were not so fair as I am were looked at, but I was not for my ugly tunic.1
Then her husband promised her that with his first earnings he would buy her a fine tunic.
But a few days passed when a burgher came to him and asked for the loan of ten marks. And he offered him a gain of two marks at a certain date. The husband replied: I will have none of it, for my soul would be in danger of hell fire. And the wife said: Oh, you disloyal traitor, you will not do it so that you need not buy me my tunic.
Then the burgher, through the urgings of his wife, lent the money for an interest of two marks, and bought his wife the tunic. The wife went to mass with the other women.
At that time there lived Merlin.
And one man spoke and said: by Saint John, that is a most fair lady.
And Merlin, the wise prophet, spoke and said: truly she is fair, if only the enemies of God did not share that tunic with her.
And the lady turned and said: tell me in what way the enemies of God have a share in my tunic.
He answered: lady, I will tell you. Do you remember when you went to a certain feast, where the other women were more regarded than you because of your ugly tunic? And you returned and showed yourself cross to your husband? And he promised to buy you a tunic with his first earnings? And a few days afterwards, a burgher came to borrow ten marks, at a usury of two, whereon you urged your husband to do this? So from this ungodly gain does your tunic come. Tell me, lady, if I have erred in aught.
Certainly, sir, in naught have you erred, answered the lady. And God forbid that such an ungodly tunic should remain upon me.
And before the whole crowd she doffed it, and begged Merlin to take it and deliver her from such grievous peril.
1 cotta. This antiquated form has survived in the cotta which priests put on during certain religious ceremonies of the Catholic Church.
---
---
---
Storer, Edward, trans. Il Novellino: The Hundred Old Tales. London: G. Routledge & Sons Ltd.; New York: E. P. Dutton & Co., [1925]. 88-90
---
| | |
| --- | --- |
| | |
| | |
Follow Us
Featured Item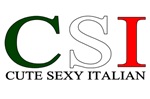 Shirts & Novelties
---
Partner Links Shops/Stores Italiansrus Gear
Proudly display the colors of Italy with these great products.

FORZIERI.com

The world largest online retailer for Premium Italian Fashions.
---
Travel Tour Italy
Customize your trip to Italy.